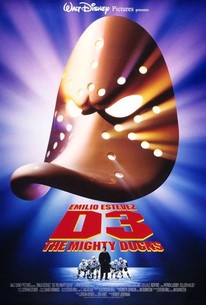 D3: The Mighty Ducks
1996, Kids & family/Comedy, 1h 44m
15 Reviews
100,000+ Ratings
Where to watch
Rent/buy
Subscription
Rent/buy
Rate And Review
D3: The Mighty Ducks Photos
Movie Info
Having achieved a modicum of fame from their earlier adventures, all the members of the Mighty Ducks hockey team are awarded scholarships to a prestigious prep school. But they must now play in the school's uniforms and renounce their freewheeling style for the more disciplined approach of their new coach, Ted Orion (Jeffrey Nordling). After star player Charlie (Joshua Jackson) quits the team, their old coach, Gordon Bombay (Emilio Estevez), must return to reinvigorate the Ducks' spirit.
News & Interviews for D3: The Mighty Ducks
Audience Reviews for D3: The Mighty Ducks
better then the last but this series is becoming routine. if they weren't so dedicated to making the characters silly or if the script wasn't so one dimensional this film could have worked.

Third entry in Disney's The Mighty Ducks franchise is a bad, unimpressive third film that really scarps the bottom of the barrel of ideas. This film is terrible, unimpressive with a bad cast, poor story and poor directing. D3 is the worst film in the series, and it's clear that there is nothing good about this film, and it's soul purpose for its existence was to cash in on the success of the first film, and they studio felt the story needed some sort of conclusion. Well this is a sad conclusion. Fans of the first film will be disappointed with this film as it doesn't have the amusing aspects of the first film, and it is a mess. This is a tired film of which a franchise is starting to show its age. This is a terrible, pointless film that unfortunately doesn't do anything whatsoever for fans of the first film, and overall D3 is a very bad film that should never have been made, but of course it was made only to cash in on the success of the first, and it shows how greedy studio executives can get; because with this film they delivered a piece of garbage and they made a lot of money off of it, instead of focusing on a quality story, they rushed it, and made an awful film with nothing good about it. This is simply put an awful third entry of which you shouldn't waste your time on. This film is simply a waste of time and money. As far as uninspired films are concerned, D3: The Mighty Ducks is one of the prime examples of such a film.

Unnecessary repetitive sequel

The weakest of the series, but I think it was mainly due to the fact that Emilio Estevez was reduced to having nothing more than a cameo appearance. The child actors are really good, especially Joshua Jackson who grew throughout the whole series. While it doesn't really know what to be in terms of tone, it's a fun movie none the less.
See Details