Da Hip Hop Witch
(2000)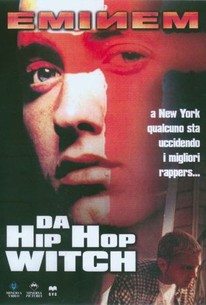 AUDIENCE SCORE
Critic Consensus: No consensus yet.
Movie Info
Rap musicians find something new to be afraid of in this hip-hop-themed parody of The Blair Witch Project. A supernatural being known as "The Black Witch in the Project" is terrorizing some of the biggest names in rap music, and a number of performers fear for their lives -- so much so that The Street Don, an underground music tycoon, is offering a reward of $10 million to whoever can find and capture the witch. As The Street Don presents daily television reports on the witch's latest victims, everyone who can scare up the courage (and needs the money badly enough) hits the streets looking for the she-demon, while a number of rappers discuss their own horrifying encounters with the Black Witch. Da Hip Hop Witch features appearances by top-selling recording artists Eminem, Mobb Deep, Pras, Ja Rule, Vitamin C, Killah Priest, Spliff Star, and Vanilla Ice.
Audience Reviews for Da Hip Hop Witch
I kept waiting for this thing to be bad-good, bad-funny, or at least bad-interesting (in a conversation piece sort of way), but "Da Hip Hop Witch" never, in any way, transcends bad. The only excuse anyone could have for being in this movie is that they were really, really high. And guess what - people who are actually really, really high are really, really boring. Nail in the coffin - there are a million rappers in this, but almost no rap. Nice job, geniuses.
Christ Carlson
Awful spin off of Blair Witch, with a witch that is supposedly attacking rappers. Rented it on a whim during the first major Eminem craze, and was pretty turned off by how boring and without any real direction it was.
Michael Clayton
[center][font=Times New Roman][size=4][color=white][img]http://images.rottentomatoes.com/images/movie/coverv/43/208243.jpg[/img][/color][/size][/font][/center] [font=Times New Roman][size=4][color=white]Oh wow. I saw this movie because at the time it was rated as the worst film ever made, and that's no stretch of the imagination. Basically, a bunch of hip hop artists got together to spoof The Blair Witch Project. Funded (I'm assuming) by the hip hop artists themselves, Eminem and others try to find the person who has been killing the hip-hopsters. Sorry for the spoiler, but the hip hop witch is Vanilla Ice. Yes, it sounds hilarious, almost funny enough to get a 3 or a 4. However, it is not as funny as it sounds. The only words you can understand are curse words, the movie goes along at an incredibly, painfully slow pace, and the end just drops off like the Red Sox in September. Do not, by any means, waste your time with this piece of junk.[/color][/size][/font]
Chris Weseloh
Da Hip Hop Witch Quotes
There are no approved quotes yet for this movie.
Discussion Forum
Discuss Da Hip Hop Witch on our Movie forum!