Dad on the Run
(2000)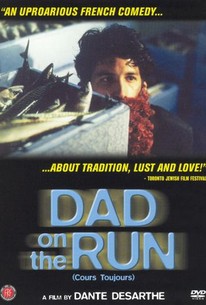 AUDIENCE SCORE
Critic Consensus: No consensus yet.
Movie Info
What do three hitmen, a lost foreskin, and the pope have to do with each other? This wacky French comedy answers this question and many more. Set during the 1997 papal visit to Paris, 23-year old father Jonas (Clemont Sibony) is given his son's foreskin in a wad of tissues after the bris and solemnly told to bury it in three days without fail. Three days later, Jonas suddenly remembers his sacred duties while playing keyboards at a bar mitzvah and tries to leave. Unfortunately, the bar mitzvah boy's father comes to believe that Jonas has been flirting with his drunk and buxom wife Sophie (Emmanuelle Devos) and orders him murdered by three of his crack hitmen. Later, when Jonas tries to comfort Nina (Rona Hartner), a Romanian hell-bent on seeing the pope, he unwittingly gives her the exact wad of tissues that contain the foreskin. Tracking down Nina and finding a suitable place to bury the foreskin in the urban scrawl of Paris proves to be no easy task.
Critic Reviews for Dad on the Run
There are no critic reviews yet for Dad on the Run. Keep checking Rotten Tomatoes for updates!
Audience Reviews for Dad on the Run
Well the streak did not last long, that's for damn sure. It's honestly got nothing to do with the fact that this film looked like it was made using the cheapest camera possible, make all your stereotypical Jewish jokes now. At first, upon looking at the preview image of the film on Netflix, I thought it was honestly gonna bother me, but it wasn't as much of an issue as I would've anticipated. I say this because, for the first half or so, everything leading up to him meeting Nina, was actually pretty decent. Yes, the entire thing about Jonas finding himself in increasingly wacky hi-jinks while trying to bury his son's foreskin, as is the Jewish tradition, apparently, is very sitcom-y. But I did find myself somewhat intrigued by what was going on by the set-up and what appeared to be a goofy comedy. There's certainly hints of that, even if it comes across a bit contrived. The film, both literally and figuratively, shoots straight out of the gate running. That's why I thought the first half was somewhat decent. It was fast-paced enough to keep you from thinking about its obvious technical flaws. It wasn't hilarious, but it had its decent lines and its look at Jewish culture was interesting, to say the least. To say that, when Jonas hooks up with Nina, it all comes to a screeching halt would be an understatement. It's customary, in films like this, that there would be parts of it that would slow down, and that's not really a problem. Sometimes you need to bring things down in order to bring them back up again. And that's where the problem lies. They bring things down, but they didn't bother to put them back up again. I suppose the film is about Jonas and his journey towards rediscovering his faith, but it's not like the movie does a good job at presenting this story in a satisfying fashion. Jonas, for the most part, was trying to bury his son's foreskin just to be done with it, without, I guess, realizing the significance of it. He was only motivated by his own need to get things done so he can move on with his life. But there's no real change in him to, somehow, make me believe that he's really changed and he wants to bury the foreskin for his son and not just for himself. He's, essentially, the same character he was at the beginning. The film doesn't beat Jonas' "transformation" into your head, but I'm sure that's what the film was going for and I just wasn't buying it. The acting is ok, nothing spectacular, but serviceable enough. The whole religious backdrop about the Pope's visit honestly was something that I literally did not pay any attention to, except when I needed to. I mean it was there, but it didn't affect me one way or the other. It's just something that's there so the film can brag about having subtext. Feels out of place and unnecessary, but it's there. Long story short, the first half of this film is decent and the second, eh, not so much. You can do much worse than this, but I would not go out of my way to watch this. There's nothing here that's truly worth watching. Entirely skippable film.
Jesse Ortega
Super Reviewer
Dad on the Run Quotes
There are no approved quotes yet for this movie.