Daddy Nostalgia
(1990)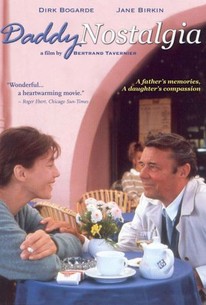 Movie Info
In Bertrand Tavernier's Daddy Nostalgia, Caroline (Jane Birkin of Agnes Varda's Kung Fu Master), a Parisian screenwriter who has recently left her husband and their young son, travels to the countryside when she hears that her British father, Tony (Dirk Bogarde of Death in Venice, in his last film role) is in poor health and has just had a serious operation. Caroline accompanies Tony and her taciturn French mother, Miche (Odette Laure), to their beautiful seaside home. Miche is determined to keep Tony from drinking or overextending herself, where Caroline is more willing to indulge her father in the few pleasures he has left. They playfully speak English with each other, while Miche speaks only French. Miche doesn't like to talk about the past, so Tony reminisces with Caroline about his former life as a sophisticated, well-traveled young man. Caroline is getting along well with her father, but as he talks about his cocktail parties and trips around the world, she remembers him neglecting her when she was a young girl. "I have no memory of you before you were 20," he admits. Tony speaks sadly of his relationship with Miche, which has deteriorated in the past few years. He notices that she used to say, "Come to bed," and now she tells him, "Go to bed." As the seriousness of his illness becomes clearer, Caroline takes Tony on a day trip to Cannes, where her deep reserve of anger toward him comes to the surface. When he speaks of his "beautiful life," and how things were better for everyone back then, she explodes -- "I don't care about your beautiful life! It was a beautiful, selfish life!" But Caroline also yearns for Tony's acceptance and love, and they both dread the day when she has to return to Paris.
Critic Reviews for Daddy Nostalgia
Audience Reviews for Daddy Nostalgia
½
I remember that this was a bit of a strange film. We have Dick Bogarde speaking very bad French while living in Australia?? Do I have the right film/ If it is the one I remember, i thought it was interesting but not too compelling.
John Ballantine
Super Reviewer
Daddy Nostalgia Quotes
There are no approved quotes yet for this movie.