Damned By Dawn
(2009)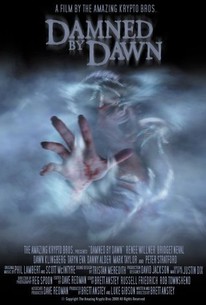 AUDIENCE SCORE
Critic Consensus: No consensus yet.
Movie Info
A young woman visiting her dying grandmother pays a high price for interfering with death in this energetic horror yarn inspired by the films of Sam Raimi. Somewhere on a farm in the deep country, Claire's (Renee Willner) grandmother is knocking on death's door. When Claire fails to heed the dying woman's warning not to meddle in the banshee's business, the dead rise up to stake their claim on the living. The mayhem starts when the sun goes down, and anyone unfortunate enough to be on this farm when all hell breaks loose is sure to be Damned by Dawn.
Critic Reviews for Damned By Dawn
All Critics (2) | Fresh (1) | Rotten (1) | DVD (1)
while Anstey is happy to pillage motifs wholesale from the Evil Dead trilogy and Straight to Hell, he lacks the pacing, and more importantly the humour, to make such materials seem anything less than hand-me-downs that have seen much better days.
September 24, 2010
Audience Reviews for Damned By Dawn
This film was great! The grandmother scared the crap out of me. It had a pretty good plot with very interesting scenes\imagery. But it did get a little off topic from the beginning's main storyline.
Jacob Palacio
Super Reviewer
½
Seen many movies about banshees? Me either, so this little Evil Dead wannabe, so very eager to please its audience, was a delightful viewing. Nothing really groundbreaking, but still fun.
A valiant effort from this Aussie supernatural horror but unfortunantly too many recycled cliches, paper thin characters and piss poor pacing make this movie incredibly boring. Mind numblingly predictable (yeah didn't see those fox traps backfiring on you an hour ealier when you set them genius) and I was tired of listening to that bitch scream after her first scene, but she keeps right on doing it until the bitter end (the screamer in question isn't even the victim but rather the (for lack of a better term) evil dead.) Nobody ever needs to sit through this, but since I did I thought I'd warn who ever reads this. AVOID.
Ed Fucking Harris
Super Reviewer
Damned By Dawn Quotes
There are no approved quotes yet for this movie.