Roozi ke zan shodam (The Day I Became a Woman)
(2001)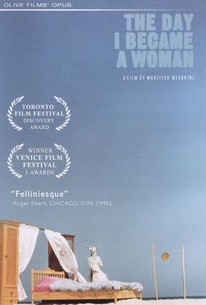 Roozi ke zan shodam (The Day I Became a Woman) Photos
Movie Info
Directed by Marzieh Meshkini, wife of acclaimed Iranian filmmaker Mohsen Makhmalbaf, this film tells three intertwined tales of women's struggle for identity in their native country, from the young to the elderly. Episode one, entitled "Havva," concerns a young girl on the morning of her ninth birthday. Against her better wishes, she is forced to stay home, away from her best friend who has asked her to play with him, due to her mother and grandmother's proclamation that she is now a woman. Learning she was born at noon, the young girl requests one more hour to do what she wishes so she can be a girl one last time. Episode two, entitled "Ahoo," follows a young woman who is being pursued on horseback by her stern husband, whom she is fleeing on bicycle in the midst of a women's biking race. Soon, her in-laws and relatives are also pursuing her, and she must make a quick decision about whether or not to return to family life. The final episode, called "Houra," follows an elderly woman who enlists the help of a young boy and his friends to take her on a shopping spree, where she intends to buy all of the things she has ever wanted out of life.
Critic Reviews for Roozi ke zan shodam (The Day I Became a Woman)
Audience Reviews for Roozi ke zan shodam (The Day I Became a Woman)
An intriguing glimpse into the lives of three women and the situations that they find themselves in.
Fascinating,profound in whatever way possible.The three portraits of 3 female generations are penetrative,society's dignity mingles in a boiling pot.Come and see the 21st century of travesty.Meshkini delivered a stupendous piece of art,one of those films thus a couple will dare to watch because it's "unknown".
Dimitris Springer
Super Reviewer
Roozi ke zan shodam (The Day I Became a Woman) Quotes
There are no approved quotes yet for this movie.