Day of the Animals
(1977)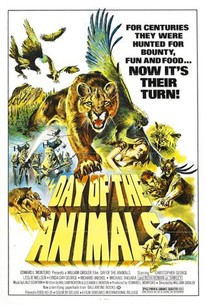 AUDIENCE SCORE
Critic Consensus: No consensus yet.
Day of the Animals Photos
Movie Info
An interesting low-budget entry in the post-Jaws animals-run-amok genre (which also owes more than a little to Hitchcock's The Birds), this noisy, violent thriller features the prophetic premise of a widening gap in the ozone layer (thanks to human indulgences in hairspray and other aerosol products) which unleashes brain-frying radiation and causes assorted woodland creatures to go for the throats of unsuspecting Sierra backpackers. As if that weren't horrific enough, the poor kids are also placed in the position of defending themselves against a rampaging Leslie Nielsen -- whose hammy performance will probably have fans of the Naked Gun series and their ilk waiting for a punch line that never arrives. Perennial B-movie couple Christopher George and Lynda Day George round out the cast. Day of the Animals is also known as Something Is out There.
Critic Reviews for Day of the Animals
All Critics (3) | Fresh (1) | Rotten (2) | DVD (1)
A highly entertaining nature-goes-wild thriller. What's not to like about a movie where a macho, bare-chested Leslie Nielsen literally tries to fight a grizzly bear?
October 21, 2005 | Rating: 3/5
Every dog has his day... and he doesn't choose to spend it watching this movie.
Audience Reviews for Day of the Animals
William Girdler's Day of the Animals is an average nature gone wild horror film that is entertaining, but is far from the best in the genre. The reason that it suffers is that the acting here is fairly bland and at times ridiculous. With that being said, I think more effort could have been put into the acting, while the plot is quite good and is really what keeps you interested in the film. Girdler's direction is good, and his sense of visuals is quite tense as you see the wildlife go crazy on the campers. This is a worthy addition to the genre, and it is a well crafted film despite its imperfections. The film does manage to be quite intense despite its lack of effective performances. I thought that it added a bit more to the enjoyment of the film due to the fact that you simply didn't care what happened to the characters, which were unlikeable. William Girdler was able to make a good horror film with Day of the Animals, though the acting suffers, the plot is what keeps you involved from the first frame onwards. This is a must see for obscured cult film fans. Even if this isn't his best piece of work, Day of the Animals showcases Girdler's talents as a talented horror director. That would materialize in his future project, Grizzly, which is in my opinion his best movie. If you enjoyed Grizzly, then you're most likely going to enjoy this fine low budget nature gone wild horror yarn. This is an underrated film that deserves to be rediscovered by genre fans due to the fact that it does provide genuine chills and intense, thrilling moments.
Here we go again with another Jaws rip-off, right down to the font of the text that opens the movie explaining the plot to us before we can even get a chance to get involved in it. Day of the Animals is another in a long line of 'nature goes awry and attacks human beings' movies. However, this is a sort of reunion of sorts, as some of the actors (Christopher George and Richard Jaeckel), director and crew worked on Grizzly the year before, and they came back for more as they just couldn't seem to get enough of animals on a rampage - particularly bears on a rampage. This one also has some other interesting aspects to it. It has Lynda Day George and Paul Mantee in it, the latter one of my favorite actors, and it also has Leslie Nielsen, who turned in probably his most evil performance. The scene when he goes toe to toe in the rain shirtless with a grizzly bear must be seen to be believed. Anyway, it's not a great movie, but like always has some entertainment value for being so schlocky, so see it for that reason. I haven't yet seen the theatrical version entitled Something is Out There, but I'll put it on my list.
Tim Salmons
Super Reviewer
Day of the Animals Quotes
There are no approved quotes yet for this movie.