Day of Wrath
(1948)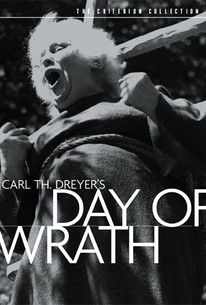 TOMATOMETER
AUDIENCE SCORE
Critic Consensus: Beautifully filmed and rich with period detail, Day of Wrath peers into the past to pose timelessly thought-provoking questions about intolerance and societal mores.
Movie Info
Danish director Carl Theodor Dreyer's Day of Wrath (Vredens Dag) is set in 1623 Denmark, where Anne Pedersdotter (Lisbeth Movin), the second wife of a Danish pastor, grows to loathe her husband for his self-asceticism and instead falls in love with the minister's son - with whom she spends an inordinate amount of time. Locals overhear her wishing aloud for her husband's death; when he dies of a stroke not long after, she is accused of witchcraft, a charge taken seriously enough to be punishable by death. Eventually, the poor woman is tortured and traumatized to such a point that she actually believes she is a witch - and she gives in to being burned at the stake. Yet Dreyer then shifts the perspective from internalized - illustrating the woman's paralyzing fear - to externalized, a point of view that enables the director to depict his subject's spiritual purification. Even allowing for the aura of raw terror, Dreyer never loses sight of the eroticism inherent in the concept of witchcraft. Based on a play by Wiers Jensen, Day of Wrath was filmed during the Nazi occupation of Denmark and not released abroad until after the war, and the director reportedly had to flee his native country when he angered the government with the film's political content. ~ Hal Erickson, Rovi
People Who Like this movie also like
Critic Reviews for Day of Wrath
Audience Reviews for Day of Wrath
½
my favorite dreyer film, more ambiguous than 'ordet', and even bleaker. made during the nazi occupation of denmark and it's easy to draw some parallels tho dreyer claimed this was unintentional on his part :P
Stella Dallas
Super Reviewer
A Dreyer film to the bone: technically innovative, critical of the dogmatic nature of Christianity, and brimming with fully-immersed, intelligent actors. I think Lisbeth Movin is a little bit unsubtle, but it might also be that she's portraying a woman so overwhelmed with new passion that she can't help but express it against her will. I love the way the movie is lit, and how it interacts dynamically with the characters' discussions of the "fire" in her eyes; she is a fascinating protagonist, repellent and sympathetic at the same time, and the language of the movie seems to reflect our constantly-shifting notions. What she is doing is wrong, but as the text unfurls to reveal a loveless marriage that she was essentially forced into, you cannot help but commend her for salvaging some bit of happiness. Fascinating work, if not totally groundbreaking in the grand scheme of Dreyer's oeuvre.
Drew Smith
Super Reviewer
Another triumph by Carl Dreyer. A young woman marries a pastor quite a bit older than her. She meets his grown son, and they begin an affair. In the meantime, a neighbor woman who is accused of witchcraft asks the young woman to protect her from the authorities. This story of hypocrisy, intolerance and betrayal should be on everyone's must-see list. However, if you're not familiar with Dreyer's work --- AND WHY AREN'T YOU?!? -- be prepared that it's slow going. But like all of Dreyer's films, it's well-worth the effort of a little patience.
Day of Wrath Quotes
There are no approved quotes yet for this movie.