Dead End Drive-In
(1986)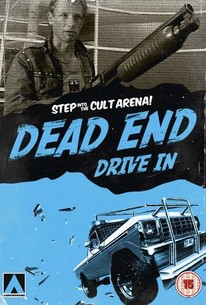 AUDIENCE SCORE
Critic Consensus: No consensus yet.
Movie Info
The premise in this actioner (set in the 1990s, which probably seemed futuristic at this time) is that the world's economy has hit the skids and in Australia, street punks are looting cars for their spare parts. In order to control the mobs of roaming gangs, the Aussie government rounds them up and stashes them in prison camps. When Crabs (Ned Manning) takes his girlfriend Carmen (Natalie McCurry) out to a drive-in movie on a date he does not realize he has just pulled into one of these prisons. In no time at all his tires have been stolen and he sees that he's been trapped. The rest of the action (spliced with humor) involves Crabs fending for himself and trying to finds a way out. ~ Eleanor Mannikka, Rovi
Critic Reviews for Dead End Drive-In
There are no critic reviews yet for Dead End Drive-In. Keep checking Rotten Tomatoes for updates!
Audience Reviews for Dead End Drive-In
Starts by ticking you into thinking it's going to be one of the 47 million Mad Max rip offs that was released around the same time, but quickly takes a left turn into "poignant social commentary". Keeps the punks though, so that's cool.
Dead End Drive-In is a terrific low budget action film from Australia. Right from the first shot, you know that you're in for something special. Director Brian Trenchard-Smith takes the advantage of the Exploitation genre to its fullest, and creates something truly memorable. Although far from perfect, this is an entertaining film that is sure to appeal to fans of Exploitation cinema. The film has overtones of surrealism and Sci Fi horror, but it isn't a total horror film, it only merely suggests these elements and the movie pays off for the viewer looking for the ultimate in thrills. The strength of the film lies in its concept and action, and it is not a film that will be seeked out for its acting, as it is often ridiculous. If you're looking for mindless action fun, then this is the film to watch. Exploitation films are always exciting to watch because they tend to be quite different from big budget films, and most of the time they tend to have more interesting ideas as well. The film has hints of bizarre humor in the dialogue and the film has a certain look to it because it showcases a broken down society and it looks great. The characters are insane, eccentric and unique and add to the enjoyment of the film. The film is far from perfect, but it definitely is one entertaining ride from start to finish. This is one of the more original films of the 1980's and it is a must see for midnight film fans that enjoy tongue in cheek action films that are over the top in terms of concept. Dead End Drive-In is one of the better obscured cult hits that deliver some awesome entertainment that you won't soon forget.
Hopelessly outdated 80's Ozploitation is at once unintentionally funny and socio-politically fascinating.
Dead End Drive-In Quotes
There are no approved quotes yet for this movie.