Deadly Blessing
(1982)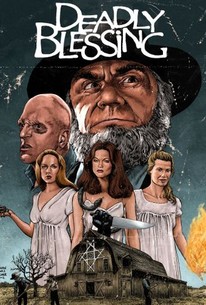 Movie Info
Strange events begin occurring when a rural widow (Maren Jensen) is visited by two friends from the city (Sharon Stone, Susan Buckner). It turns out that the religious organization which the woman's dead husband belonged to is a bit more than it seems, with a fanatical leader (Ernest Borgnine) to boot.
Critic Reviews for Deadly Blessing
All Critics (6) | Fresh (1) | Rotten (5) | DVD (2)
On paper, a slasher-thriller with supernatural overtones, Deadly Blessing is instead a series of loosely connected parts.
One of Wes Craven's best films, an oddball but often scary thriller mixing elements from religious, slasher, snake, spider and monster flicks
Craven misses the mark with this one.
March 19, 2003 | Rating: 2/5
Audience Reviews for Deadly Blessing
The Amish community is one of clandestine rituals and Rumspringa alone could be converted into a feasible horror film. On the other hand, Deadly Blessing scrutinizes the borderline cult aspects of the luddite lifestyle as if it were a pagan subculture summoning the arrival of the incubus. With that in mind, I could corroborate the furor the Amish might expectorate on this with precious images of Hittite field tilling and diurnal chores over ominous Gregorian chants. Without the additives of demonic makeup, Michael Berryman and Ernest Borgnine are already accursed, spectral voices of doom. One moment of surprisingly subtle despair from Berryman is when he peeping on Martha (Maren Jensen) in her negligee and he looks genuinely crestfallen over his sheltered existence. The subtext about proselytizing from the ascetic community to a more "worldly" relationship with a woman is vapidly skimmed with intermittent scenes of Isaiah (Borgnine) scolding his kin not to "covet" tractors and the other luxuries of their infidel neighbors. In lieu of that incendiary topic, Deadly Blessing is mostly tethered to an overblown slasher film. Sharon Stone's nightmare about a salacious killer who preys on her spider phobia might be Wes Craven's epiphany for dream stalker Freddy Krueger. Also bridging the gap between this and A Nightmare on Elm Street is the POV of a snake slithering between Martha's legs in the tub. Those who avidly anticipate an underrated installment from the late Craven will be sorely dispirited that Deadly Blessing is a torpid, rustic 'Sleepaway Camp' clone. The car explosion is decently suspenseful though.
Cory Taylor
Super Reviewer
Wes Craven has had a long and illustrious career in the horror genre, making some of the most legendary films that would ultimately chill you to the bone. Over the course of his career, he has made a few films that are sadly not as well known as others in his filmography. Swamp Thing was one such example, the other is Deadly Blessing. Although not one of Craven's best works, this is still one of his most underrated works, and I quite enjoyed it for what it was. The film relies on atmosphere to create the tension unfolding on-screen, and it offers up an entertaining horror experience. I really don't see why Deadly Blessing got so much flack as it has plenty of effective elements going for it. The cast is good and there are some surprising performances here. The film is much better than one might thing, and though it's not Craven's most stellar picture, it's certainly not his worst either. The best performances of the film were probably that of Sharon Stone and Michael Berryman, who is an icon of the genre and who always manages to be creepy in his performances. The film tends to deliver enough scares to satisfy your horror needs and even if it's nothing truly remarkable in terms of truly engaging horror, Deadly Blessing is a worthwhile viewing for Wes Craven fans. The effects are very well done, and add to the thrills that the film provides. For what it is, this is a well crafted film that should be seen if you love supernatural horror and it is not nearly as bad as critics have claimed it to be. The performances are good, the script is interesting and the plot is entertaining and it deserves to be rediscovered. If you come across this film, give it a shot as it is an overlooked horror flick that has been overshadowed by Wes Craven's later work.
½
A tame but fairly decent effort from Wes Craven. The film doesn't provide much of a body count or gory detail for splatter fans, but it does well building suspense and moments of creepiness and sets up a very good finale with an unexpected turn in the plot. It's not the most talked about Craven film but it's definitely worth a watch.
Deadly Blessing Quotes
There are no approved quotes yet for this movie.