Death by China
(2012)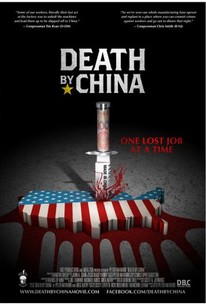 Movie Info
Death by China pointedly confronts the most urgent problem facing America today - its increasingly destructive economic trade relationship with a rapidly rising China. Since China began flooding U.S. markets with illegally subsidized products in 2001, over 50,000 American factories have disappeared, more than 25 million Americans can't find a decent job, and America now owes more than 3 trillion dollars to the world's largest totalitarian nation. Through compelling interviews with voices across the political spectrum, Death by China exposes that the U.S.-China relationship is broken and must be fixed if the world is going to be a place of peace and prosperity. -- (C) Official Site
Rating:
NR
Genre:
Directed By:
Written By:
In Theaters:
On DVD:
Box Office:
$37,412.00
Runtime:
Studio:
Critic Reviews for Death by China
Audience Reviews for Death by China
Some interesting stuff in here but not a ton you don't know if you follow the news. Sometimes the dated graphics feel a little cheep. heres to hoping the director doesn't get to say "i told you so" in a few years.
Alex Wolf Rkc
Everyone in America needs to see this movie. If you do your shopping at Target, Walmart or any of the big box stores in America you are contributing to America's downfall.
Jack Trader
This documentary is well researched and extremely non-partisan. It gives an accurate and articulate explanation of how our trade with China has had devastating effects on our Economy. The film gives a face to what is called our Economy--- the people who make up the labor force and now are in precarious economic situations with little hope for the future. As a manufacturing executive, I can say the film is realistic and tells it like it is. Those who find the film biased or orchestrated hysteria, have no concept of what the U.S.'s relationship with China has created for the "everyday "man. Those people are living in a glass house. Besides detailing the elements of how China has effected everyone of us in a concise, factually based manner, using Economists and Industry people as sources, the film enlightens people of the pervasiveness of what "Made In China" means ---not only on the home front economically, but what it means to purchase a product "Made in China" from a human rights and ecological perspective in China itself.As mentioned, as a manufacturer I had a thorough understanding of the repercussions of our massive off shore production moves to China, but the film also enlightened me to the social consequences . And as a professor, I found my students to be 100% enlightened and at the same time speechless, which is not often in my classes, as to what it means to purchase a product Made In China--- the film clearly explains how we got here in a non-partisan manner, China's manipulation of their position in exporting to the USA, and that in simplistic terms, buying the cheapest t-shirt available has a consequence on a social level .The film should be required viewing in the educational system to promote a shift in purchasing habits for future generations and understanding that paying more for something is not always a negative.Death by China should be shown on Primetime TV!
Marty Podway
Death by China Quotes
There are no approved quotes yet for this movie.