Death Note (Desu nôto)
(2007)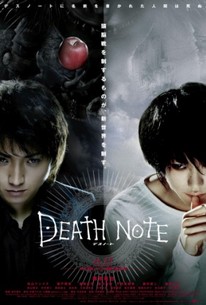 Death Note (Desu nôto) Photos
Movie Info
Released into Japanese theaters in 2006, director Shusuke Kaneko's stylish adaptation of the best selling manga quickly trampled The Da Vinci Code on Japanese screens and subsequently and set box office records in Hong Kong and all across Asia. The plot picks up as aimless law student Light Yagami (Tetsuya Fujiwara) discovers a mysterious notebook in the middle of the street. Soon thereafter, Light discovers that if he writes a name in the notebook, that person will instantly die (generally of a heart attack). Of course it doesn't take long for Light to realize the extraordinary power he now holds, and before long he hatches a plan to rid the planet of crime by scribbling the name of notorious criminals in the pages of the powerful notebook and make the world a safer place for decent citizens everywhere. But Light isn't alone in his mission, because his new companion Ryuk - a flying god of death who only Light can see and who also happens to be the true owner of the notebook - is always there to egg him on and get a little laugh from the criminal holocaust. Over the course of the next few weeks, Light does away with millions of nefarious baddies and the global crime rate drops by seventy percent. Still, the police aren't too happy that a regular civilian seems to be taking the law into his own hands. Perhaps the only person capable of discovering Light's true identity is L (Kenichi Matsuyama) - a brilliant teenage detective with a taste for sweets and remarkable deductive reasoning skills. When the police chief (Takeshi Kaga of the hit television series Iron Chef) - who also happens to be Light's father - is assigned the task of unmasking the elusive killer, things really start to get interesting. A fast paced, goth-infused, cat-and-mouse thriller, Death Note was followed at the box office by the equally successful sequel Death Note: The Last Name just a few short months later. ~ Jason Buchanan, Rovi
Critic Reviews for Death Note (Desu nôto)
Audience Reviews for Death Note (Desu nôto)
[img]http://images.rottentomatoes.com/images/user/icons/icon14.gif[/img]
Directors Cat
Super Reviewer
½
Staying true to the original series in almost every single aspect, "Death Note," the live action film, succeeds both as a homage to it's source material and as a film on it's own. It's interesting, engaging, and all around fantastic, aside from the cheap direction, low-budget, and laughable effects, this film proves mesmerizing in the storytelling portion, and never let's up until it's perfect cliffhanger at the end. This film takes scenes of the original Anime show and almost replicates them, which was a very nice to see, but there are a few minor changes that bothered me, but all-in-all, I loved watching this film. The direction is basic, but the writing is great, the story is phenomenal, and the casting is almost perfect. The live-action version of "Death Note" is spot on!
½
The beauty of DEATH NOTE is not how the mythology of Japanese Death Gods (Shinigami) is represented, but how this film takes an original concept from a wonderful manga, and makes it into it's own living, breathing version that stands on it's own. When adapting something from another medium, except if it is by experts, it is bound to not be... pretty. Here, it is different on numerous accounts, but it is in a way that makes it different, unique, and my own preference to the tale of Light Yagami. Maybe the reason why I am giving this telling of the story so much praise is due to this being how I was introduced to the series. As such, this is the one I mostly follow and prefer. But, what is it that makes this film work? Personally, I think it is one of the following: the direction, writing, the acting of Ken'ichi Matsuyama, and the effects of Ryuk. So, might as well start with direction. I have followed the films of Shusuke Kaneko for quite some time. He is a talented director when he was making The Gamera Trilogy and the Godzilla film Godzilla, Mothra, King Ghidora: Giant Monsters All Out Attack. With this film, I was interested in how he could handle it which, to my shock, he is able to make a film that can easily rival either GMK or Gamera 3: Awakening Of Iris (the films that are considered his best). The main thing about his direction with this film I like will have to be how he stages the deaths of criminals, set the atmosphere of dread, and how he was able to cut off this film with a wonderful cliff hanger that does make you want to see part two as soon as possible. Now, there is a problem with adapting this film from a manga: they were only able to get pieces every week as DEATH NOTE was serialized in Shonen Jump magazine during the making of the film. From what they had to work with, I go back to when I said that this film is one of my favorite adaptions of any film I have seen. The main reason why is due to how this film takes a life on it's own, creates a parallel timeline from the manga and anime counterparts, and yet it able to improve on the original manga. The main problem I had with the manga would be the amount of characters that were featured and how long it ran. Here, they fix those problems by eliminating all extraneous characters and only kept to those that are needed for the story while adding a few to help with the story. Now, that is what I like: keeps the spirit of the original, while being it's own. Ken'ichi Matsuyama. Wow. It is hard for me to explain his acting in this film as he done what Heath Ledger, Noomi Rapace, and Rooney Mara would later do in film: totally become this character physically, emotionally, and mentally. Matsuyama gives one hell of a performance as L and, it is just amazing. The main example of this is how we first see him half way through the film. How he personifies the character, make him come to life, plus able to just breathe life into him is beyond inspiring. Besides, seeing all of the sweets he had to eat during the film, I am wondering how he did not put on any weight or got diabetes. I know he made the character real, but I don't think he can burn sugar the same way the L in the manga can. Finally for the character I wanted to see brought to life more than any other: Ryuk. Originally, I had no idea how the hell they were going to do that. I mean, if you are aware of the source material, you know all about Ryuk and what he looks like. So, to see him brought to life the way they did, I will admit that I was content. I still wonder how things would have been if they got a human to portray Ryuk instead of making him CGI. Just a thought I have. But for CGI, and what I think CGI should be used for, I would say that the effects in this film will have to be some of the best used I have seen as of now. While I have praised this film, it goes without saying that I do have one complaint about this film. Mainly it has to deal with the pacing of the film. You see, this film's main problem is that it is slow and rarely moves onward. At all. This is a problem because the entire cat and mouse game between L and Light that plays through out this film makes you get to the edge of your seat, but the pacing just kind of kills it for me. As I have said a few times as is: this is one of the best adaptions of any manga I have seen. From a stellar performance that should have been nominated for Best Foreign actor to incredible CGI, this film is a must to see. With the exception of the pacing. That should have been improved on.
Zach Brehany
Super Reviewer
Death Note (Desu nôto) Quotes
| | |
| --- | --- |
| 'L' Ryuzaki: | Gathering from Kira's behaviour, he is very immature and hates to loose... just like me. |
| | |
| --- | --- |
| Ryukk The Death God: | You you, Light... you're more of a Shinigami than any other Shinigami I ever met. |
| | |
| --- | --- |
| Light Yagami: | The law has its limits. |
| Shiori Akino: | Everything has limits. |
| | |
| --- | --- |
| 'L' Ryuzaki: | I am justice. |
| Light Yagami: | Justice? I am justice! I am the god of the new world, saving it from evil and ridding it of fear. Those who betray God are the evil ones. |
Discussion Forum
Discuss Death Note (Desu nôto) on our Movie forum!