Death Note: The Last Name (Desu nôto 2)
(2008)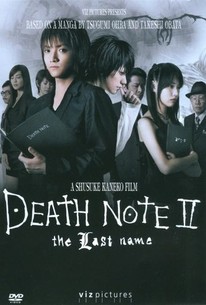 Movie Info
The battle of wits between Light Yagami (Tatsuya Fujiwara) and L (Ken'ichi Matsuyama) continues in Shusuke Kaneko's sequel to Death Note, Death Note: The Last Name. Light manages to get himself appointed to the team investigating the identity of Kira. He also gains an ally when pigtailed TV cooking show host Misa Amane (Erika Toda) finds her own Death Note. She's completely smitten with Kira, and having lost her own family to a hideous crime, she's eager to join in his cause. Unlike Light, Misa is even willing to trade half of her remaining lifetime to her Death Note's demon owner, Rem (voiced by Peter), for the power to see the names of others, so that she can essentially kill anyone she can see. Once he learns the identity of this second "Kira," Light is naturally eager for her to find out L's real name, so that he can be killed before he captures Light. Misa is more interested in being Light's girlfriend. L, perhaps unsurprisingly with his diet, turns out to be Misa's biggest fan, and manages to temporarily foil Light's efforts to determine his true name. As the authorities close in, taking both Light and Misa into custody (over the objections of Light's father [Takeshi Kaga]) and putting them under constant observation, Light is forced to come up with and extremely clever plan to avoid being captured, even if it means giving up the Death Note. Death Note: The Last Name had its New York premiere at Subway Cinema's 2007 New York Asian Film Festival with director Kaneko in attendance.
Critic Reviews for Death Note: The Last Name (Desu nôto 2)
All Critics (5) | Fresh (4) | Rotten (1)
It's like Infernal Affairs/The Departed crossed with Devilman, Primal Fear and Drop Dead Fred. If that combination doesn't scream "Watch me!" to you, well, you're wrong.
A pity that Kaneko's direction is once again too workaday to fashion such strong material into a truly engaging visual experience.
Audience Reviews for Death Note: The Last Name (Desu nôto 2)
½
[img]http://images.rottentomatoes.com/images/user/icons/icon13.gif[/img]
Directors Cat
Super Reviewer
½
Aside from a completely tampered with ending, "Death Note 2: The Last Name" embraces it's title and surpasses the original film in many ways, even if it strays further away from it's source material. We get more depth into the characters and how they feel about everything, and everyone is much smarter, making this a much more engaging film all around. There are minor complaints I have, which I can't mention without spoiling, but I'll just say that the ending in the original source material was much better handled, rather than things just unfolding like this film did. The direction is a bit better, the camerawork is impressive, and the script is great! I again loved watching this film for what it was, trying hard not to compare it. The ending is kind of a let down, but it's a terrific thriller/mystery.
½
No adaptation is perfect. To say that would be a statement that would cause complete and total chaos among all that are in love with whatever material you are talking about. However, in terms of Death Note, while this is not a perfect adaptation, it is an improvement over the original source material. So, does this follow the original manga/ anime? Not really. Doing what Rob Zombieâ(TM)s Halloween II would do, this film follows the life that the first film had and carries it on. In doing so, what I have here is something that beats the original source material, makes the story much better, and in my opinion, the most definitive version of the story of Light, L, Misa, Ryuk, Rem, and the Death Note. Shususke Kaneko is mainly who I have to thank for this adaptation and how it came out. Picking up right where the last film left off, Kaneko does not go back and reestablishes the characters. He just takes the film and launches it and while going on for the ride, he unleashes the paranoia and fear that Light goes into from the start. Masterfully balancing scenes, tensions, and the overall performances, Kaneko delivers a film, that I am bold enough to say, could actually be a contender to rival Gamera III: Incomplete Struggle or Godzilla, Mothra, and King Ghidora in terms of being his best. The main reason for how he handles this film is his ability to keep the tension fresh at all times, knows when to explode the shocks, and how he has his main three actors act towards the two Shinigami/ Death Gods in this film. But the best showing is of the last thirty minutes. I wonâ(TM)t ruin the film by saying what Kaneko does, but even if you know the ending to Death Note, you wonâ(TM)t see this coming. The acting in this film is more tighter than in the first part, but that is mainly due to the adding of Erika Toda as Misa Amane. With Ekria, Tatsuya Fujiawa, and Kenichi Matsuyama, we have three beyond talented actors/ actress that just breathes new life into their respected characters. Like with the first half, my attention goes to Matsuyama for his portrayal as L. Like I said in the review for the first half of this film (I am going to have to put both Death Note films together as one film), Matsuyama gives a more dedicated performance than what we needed for L, and it is a shame that he is not recognized as much as he should for this film. With Toda and Fujiawa, I was actually delighted with how they handled their scenes with the Shinigami and not making it all look like they were an army of idiots talking to themselves. The acting in this film is so much better then needed, and that just adds all the more power to Kanekoâ(TM)s story telling. For the special effects for the Death Gods, I still love how they decided to handle Ryuk and Rem. Mainly because they do not try to make them realistic. That is where the fun of watching this film comes from: they just stand out in a rather nice way. With a typical director, he would have the special effects be realistic to the point that they just become creepy. But here, they are creepy to an extant, but they have this cool factor about them that makes them entertaining to watch, plus the amount of emotion they have to the point that you start feeling sympathy and compassion for them is also something I was not expecting to find in this film. Towards the end when one of the two main Death Gods dies, it actually pretty sad due to how much you grow to care for them, due to how much of themselves we see. As with the acting, this is all due to the greatness of Kaneko. I know that a good chunk of this review has been me boasting on the direction of Shusuke Kaneko, but he is what makes this film good. No, not good. Great. Like with Quentin Tarantinoâ(TM)s Kill Bill, Death Note: The Last Name is a complete level higher than the first Death Note film, but the sum of itâ(TM)s parts is so much more pleasing and wonderful then they are separate. If one must watch this film, make sure you have the first film and watch both back to back. The third Death Note film (L: Change The WorLd) is a totally different subject matter.
Zach Brehany
Super Reviewer
Death Note: The Last Name (Desu nôto 2) Quotes
There are no approved quotes yet for this movie.