Death of a Nation
(2018)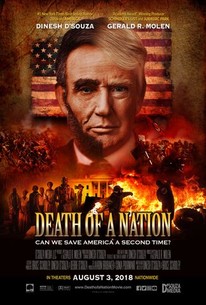 Movie Info
Not since 1860 have the Democrats so fanatically refused to accept the result of a free election. That year, their target was Lincoln. They smeared him. They went to war to defeat him. In the end, they assassinated him. Now the target of the Democrats is President Trump and his supporters. The Left calls them racists, white supremacists and fascists. These charges are used to justify driving Trump from office and discrediting the right "by any means necessary." But which is the party of the slave plantation? Which is the party that invented white supremacy? Which is the party that praised fascist dictators and shaped their genocidal policies and was in turn praised by them? Moreover, which is the party of racism today? Is fascism now institutionally embodied on the right or on the left? Through stunning historical recreations and a searching examination of fascism and white supremacy, Death of a Nation cuts through progressive big lies to expose hidden history and explosive truths. Lincoln united his party and saved America from the Democrats for the first time. Can Trump-and we-come together and save America for the second time?
News & Interviews for Death of a Nation
Critic Reviews for Death of a Nation
Audience Reviews for Death of a Nation
Once again Dinesh D'Souza exposes the nefarious past of the Democratic Party in Death of a Nation. Beginning with an examination of the left's reaction to the election of President Donald Trump and it's accusations of fascism, D'Souza looks at what true fascism is by studying the regimes of Benito Mussolini and Adolf Hitler, as well as discussing FDR's and other American progressives' admiration of European fascism and their attempts to incorporate it into the New Deal policies to get America out of the Great Depression. He also discusses how Andrew Jackson's forced relocation of American Indians and the South's "One-Drop" laws that discriminated against blacks influenced how the Nazis went about creating the legal framework to strip away the rights of Jews. The historical re-creation scenes are kind of low-budget, and some of the connections and assertions that the film makes are rather tenuous and generalistic; but that's somewhat to be expected given the complexity and enormity of the topics. Still, the interviews with historians and other experts are incredibly fascinating and bring to light a lot of interesting information. While it's not exactly subtle (or completely fair) Death of a Nation is a compelling documentary that reveals the hypocrisy of the left.
Dann Michalski
Super Reviewer
Thought I'd check it out, but what a waste of time.
Joe Schneider
Super Reviewer
Death of a Nation Quotes
There are no approved quotes yet for this movie.