Death Wish
(2018)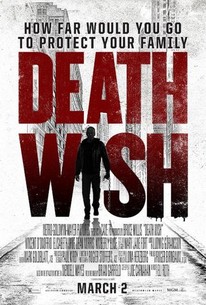 TOMATOMETER
AUDIENCE SCORE
Critic Consensus: Death Wish is little more than a rote retelling that lacks the grit and conviction of the original -- and also suffers from spectacularly bad timing.
Movie Info
Metro-Goldwyn-Mayer Pictures presents director Eli Roth's reimagining of the 1974 revenge thriller Death Wish. Dr. Paul Kersey (Bruce Willis) is a surgeon who only sees the aftermath of his city's violence when it is rushed into his ER - until his wife (Elisabeth Shue) and college-age daughter (Camila Morrone) are viciously attacked in their suburban home. With the police overloaded with crimes, Paul, burning for revenge, hunts his family's assailants to deliver justice. As the anonymous slayings of criminals grabs the media's attention, the city wonders if this deadly avenger is a guardian angel or a grim reaper. Fury and fate collide in the intense action-thriller Death Wish. Paul Kersey becomes a divided person: a man who saves lives, and a man who takes them; a husband and father trying to take care of his family, and a shadowy figure fighting crime; a surgeon extracting bullets from suspects' bodies, and a man seeking justice that detectives are quickly closing in on.
News & Interviews for Death Wish
Critic Reviews for Death Wish
Audience Reviews for Death Wish
Eli Roth and Bruce Willis faithfully update the hoary cliché of the-good-man-made-bad vengeance flick. Although the politics might be questionable, the action flick genre is not ill-served by this new/old entry. You get what you pay for.
Kevin M. Williams
Super Reviewer
½
You get what you pay for and in this instance you get Bruce Willis and Eli Roth ratcheting up the violence and gore in ways that you're scared might feel icky, but are smartly undone by the tone of it all. 2018's Death Wish is more inclined to be a mindless actioner than it is morally contemplative allowing it to play the field of the genre rather than hold its characters accountable. Still, all ol' Hank AKA Dean Norris had to do was look up Willis' characters YouTube searches and he would have had enough for a warrant. Always good to see D'Onofrio schlub it up as well.
Philip Price
Super Reviewer
Death Wish comes at a pertinent time in our nation's history as gun violence continues to dominate the headlines on a daily basis. In fact, this movie was delayed months in the wake of the Las Vegas shootings. I suppose the main question worth asking is, was there ever really an appropriate time to release such a violent film centered around gun control? The Parkland shootings just happened a week ago. Why wasn't this film delayed again? Some people might be asking why this film is even coming out in the first place, but I'm here to at least let you know from a purely contrarian POV, Bruce Willis's first film of 2018 is not necessarily the return to form we had all hoped, but just another subdued performance with flashes of what might have been instead of what was. I have not seen Bruce in something worth watching or at least recommending since Looper back in 2012. I'm not sure Death Wish changes my stance except for the committed fan, someone interested in a bit of mindless violence, or the Eli Roth aficionado. Gun violence issues aside, Death Wish falls flat in many categories where we would consider this a good movie. However... Let's go ahead and focus on why someone would enjoy this film knowing the plot is silly and the pretense of it even sillier. It has all the machinations of a solid B-action movie. It also feels relatively grounded considering we are watching a successful surgeon turn vigilante without much training other than YouTube videos and self practice. The timeline is a little hard to determine, but there's enough to go off of to understand this takes place over weeks rather than a few days. What I can't get over with Willis is he just doesn't feel enthused as he used to be. I know he's older, but I'm just not feeling his excitement anymore. He didn't mail in the performance, but it wasn't his best. Joe Carnahan, responsible for some pretty good dark thrillers and action movies like Stretch, The Grey, and Smokin' Aces, stays right in his wheelhouse. Written with corny dialogue (some of the lines lough-out-loud funny) and coincidental happenstance, Death Wish surprisingly falls on the lighter side of his films he's written. As for Eli Roth, you either love him or you hate him. I stand by his early work and anything needing his eye for torture, gore, or shock, but we only get spurts of that with a few of the kills. He felt more hands off with his style in this than I was expecting, but I don't think it hindered the film. Death Wish is sure to cause controversy to anyone with a pulse on gun control, but let's put that aside. The movie is practically crapping on Chicago for an hour and forty five minutes for the murder rate, gun violence, and overall general health of the city. It's a bit of a slog to sit through when those statistics are rattled off. But Death Wish makes an impression when things get campy and satirical when the plot revs up to Willis actually making moves. He's not supposed to be Liam Neeson in Taken or Keanu Reeves in John Wick, and I think that helps make this film different from the others. He's just a man after the men who killed his wife and hurt his daughter. Who doesn't want a good old fashioned revenge flick?
Lane Zieben
Super Reviewer
Death Wish Quotes
There are no approved quotes yet for this movie.