Defending Your Life
(1991)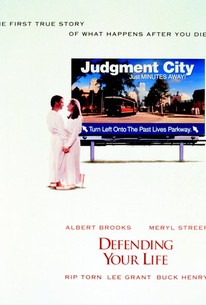 Defending Your Life Photos
Movie Info
Albert Brooks wrote, directed, and stars in this philosophical comedy about a man having a hard time making a case for himself in the afterlife. When advertising executive Daniel Miller (Albert Brooks) finds himself in a fatal car crash minutes after taking delivery on a new BMW, he's whisked away to Judgment City, where the recently dead are put on a sort of trial to decide their fate. If in your time on Earth you were able to face your fears and learn from your mistakes, you get to move on to a life in a better world. However, if you didn't, you have to go back to Earth and try again. As he spends the next several days watching various episodes from his life, Daniel gets the impression he doesn't stand much of a chance of moving on -- and his representative, Bob Diamond (Rip Torn), seems to have little confidence in his case. In the meantime, he frequents Judgment City's many restaurants (where the food is delicious and you can eat all you want without gaining an ounce), pays a visit to the Past Life Pavilion, and meets Julia (Meryl Streep), who seems so kind, sweet, and noble that her advancement is practically assured. Daniel and Julia fall in love, but what's going to happen if they don't end up in the same place? Albert Brooks and Meryl Streep make a witty and engaging romantic team in Defending Your Life, and Shirley MacLaine appears in a highly appropriate cameo. ~ Mark Deming, Rovi
People Who Like this movie also like
News & Interviews for Defending Your Life
Critic Reviews for Defending Your Life
Audience Reviews for Defending Your Life
½
A sweet fantasy into a weigh-station where the departed make cases for whether they lived fearless lives, and after judgment, they move onto greener, more intelligent pastures or get reincarnated back to Earth. I'm not a fan of Meryl Streep, but she is angel bright as the fearless Julia. There seems to be a hidden layer of stupidity in those who move on - like that their diet consists of dirt and worms, or the substitute lawyer who uses 43% of his brain but doesn't say a word in court to defend Daniel - but they're just sight gags that don't come to fruition.
Alice Shen
Super Reviewer
½
An imaginative, hilarious look at an ad-man (Albert Brooks) killed in a car accident and sent to a purgatory-type afterlife, where he awaits judgment concerning if he lived a good life or not in order to see if he will be granted access into Heaven. If he isn't, he'll be sent back to Earth to live another life again. Albert Brooks really nails this from every angle - writing, directing, and acting, this is a genius film. It doesn't quite keep up the same momentum is has during its last half hour or so, but this is a mostly great comedy which features a great premise, and one that is executed soundly in almost every conceivable aspect. The ending is a strange one but fitting in a weird way. It's also very re-watchable thanks to its ability to get huge laughs, while at the same time possessing the skill to know when to become serious when time calls for it.
Dan Schultz
Super Reviewer
½
Daniel Miller: Why do you drive this? Jeep Owner: What? Daniel Miller: I'm curious. I see people driving these things. What do you know that I don't? Are floods coming? Hoover Dam broke? What's going on? Jeep Owner: I like this car. Daniel Miller: It's not a car, it's a battering ram. This is what Patton drove: "Hey you, soldier! Follow us!" Jeep Owner: Make fun, but in an 8.5 earthquake, you'll beg for a Jeep. Daniel Miller: In an 8.5 earthquake, I'll beg for a coffin. A very funny and original movie, with Albert Brooks at his best. The story itself is a neat concept, what happens when you die? No overdoing it, just a nice idea where people are sent to a place where things get determined for you in an orderly fashion. The idea is to repeat life until you sort of learn a deeper meaning and can move on. Brooks plays Daniel, a man who is killed at the beginning of the movie only to arrive in this afterlife setting. He is informed by his lawyer-type person, played by Rip Torn, that he will be judged based on clips from nine days of his life, and it will be determined whether he will be incarnated back on earth or move on. While not on trial, Daniel gets to move around this afterlife town known as Judgment City. During this time he meets a woman Julie, played by Meryl Streep. Many jokes in the movie come from how much better Streep's life was and how much better she is treated in Judgment City because of it. Daniel Miller: What is this? Julia: It's my hotel. Daniel Miller: This is your hotel? Julia: Yeah. Where are you staying? Daniel Miller: Obviously at the place for people that weren't very generous and didn't adopt anybody. I'm at the Continental. Come over one day; we'll paint it. The movie is very funny overall due to Brooks style of humor. The way he writes his comedy works so well and is helped even more so when Brooks gets himself into various stages of his conversations, observations, or arguments. Also very funny are the actual judgment scenes going between scenes from Daniel's life and the discussion afterward. Along with watching this movie for its story and humor, there are also various elements that hint at some deeper themes involving the thoughts on death and the assessment of life. The inclusion of a love interest and how that factors into the story is also effective. I've watched this movie many times and love it. Its a good premise, featuring solid work from Brooks as well as the supporting cast. The ideas introduced here are good setups for the movie's concept without going to deep. Its very entertaining and well done. Bob Diamond: Did we ever stop to think that this young boy had a bond with his father? I don't think it had anything to do with the friend. I just think Daniel couldn't lie to his dad. That's all. Lena Foster: You're nodding, Mr. Miller. Does that mean you agree with Mr. Diamond? Daniel Miller: Oh, yes. I had a bond with my father. I pretty much never lied to him. Lena Foster: You never lied to your father? Would you like me to show you at least 500 examples? Daniel Miller: I said "pretty much" never lied. I didn't say I never, ever lied. You have to lie sometimes... in an emergency. But, ah, it doesn't mean the bond is affected. If you've got the bond the bond is always there, and if you have to lie occasionally you're not going to interfere with the bond. You know, the bond can wait for a little lie and... in the end it's there for you... You know, sometimes in the middle of a lie I found that the bond would kick in... maybe squeeze a little truth out. Bob Diamond: Psst, wrap it up. Daniel Miller: I'm through.
Aaron Neuwirth
Super Reviewer
Defending Your Life Quotes
| | |
| --- | --- |
| Comedian: | How did you die? |
| Daniel Miller: | On stage just like you! |
| | |
| --- | --- |
| Talk Show Guest: | this is what smart people eat? |
| Talk Show Guest: | This is what smart people eat? |
| | |
| --- | --- |
| Daniel Miller: | And you didn't want to toot your own horn |
| Daniel Miller: | And you didn't want to toot your own horn. |