Deliria (Bloody Bird)(Sound Stage Massacre)(Stage Fright)
(1987)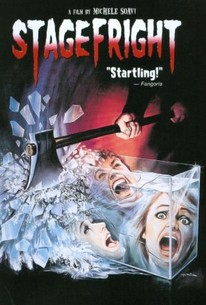 AUDIENCE SCORE
Critic Consensus: No consensus yet.
Movie Info
Horror film actor Michele Soavi's directorial debut was this stylish giallo thriller about an escaped lunatic terrorizing the cast of a stage musical who get locked in a theater after dark. David Brandon, Barbara Cupisti, and perennial victim Giovanni Lombardo Radice (aka "John Morghen") lead the cast, most of whom spend their time sniping at each other with amusingly typical backstage cruelty. The murder scenes are the film's primary attraction, artfully handled by Soavi in setpieces such as a blue-lighted stage strewn with feather-covered bodies. The killer wears an owl mask, which is offputting at first but seems progressively more sinister as the film goes along. Soavi's stylistic mentor, Dario Argento, directed the similar Opera the same year, while this one was produced by Aristide Massaccesi ("Joe D'Amato") from a script by actor Luigi Montefiori ("George Eastman").
Critic Reviews for Deliria (Bloody Bird)(Sound Stage Massacre)(Stage Fright)
All Critics (4) | Fresh (3) | Rotten (1) | DVD (3)
At times, Stagefright transcends both its low-budget economics and its well-worn genre requirements and achieves something sublime that can only be described as "Hitchcockian."
The kind of ridiculously self-assured debut that declares its maker to be some kind of savant or prodigy.
Stagefright proceeds as a rather earthbound taster of winky genre self-reflexivity.
Audience Reviews for Deliria (Bloody Bird)(Sound Stage Massacre)(Stage Fright)
½
Soavi certainly inherited Dario Argento's predilection for giallo slasher theatrics with 'Stagefright', an operatic first feature which cannily blurs the line of art-imitating-life at a grueling stage production. For instance, before the financial backer (the producer) is slaughtered, he throws his collected sums at the killer to no avail. Intelligently, Soavi encapsulates the entire film into one night of rehearsal with a keen sense of claustrophobia that spans from the dressing rooms to the rafters above. Aside from the ill-advised introduction of a whirring-guitar soundtrack in the midsection, the film is undeniably hair-raising and unflinching. The cliches of the egomaniacal director and the swooning gay actor in a leotard are firmly established and systematically whittled down until a hide-and-seek last act between the ingenue and the owl-headed killer. The murderer assembles his disembodied victims into an inventively grotesque diorama and the blowing feathers add an eerily ethereal mystique to the set decoration.
Cory Taylor
Super Reviewer
½
Michele Soavi's directorial debut and he has other credites like Alien 2 on Earth his first acting role. Still Soavi still puts on some stella murder scenes. The direction is great for a first time gig...Some great creepy music and some stella acting for its time (Mnus the dubbing no doubt). Still amazing camera work and gory effects,
Deliria, Aquarius, Bloody Bird or Stagefright is the horror movie I remember most during my adolescent years, and it freaked me out!!! There is an extremely high level of violence with Soavi showing in graphic detail power drills being shoved through bodies, severed torsos and the like - all of which initially serves to give the impression that Soavi is a director without any style, just a penchant for ultra-violent dispatch. However there are also a number of occasions where Soavi demonstrates considerably more style - particularly in moments that he blends the suspense with the illusion of the stage, like one sequence where the director directs the killer in the play how to kill an actress unaware that he is directing the killer who really is killing the actress. And once Soavi has gotten his string of victims out of the way he develops the film into a vividly drawn-out series of suspense sequences - in one scene the heroine is hiding in a shower cubicle as a friend is stabbed by the killer in the adjoining cubicle and she must do all she can to stop her friend crying out for help and giving her presence away; or where a cat trips a fan blowing away a pile of feathers revealing the key embedded in the cracks of the stage and the heroine's suspenseful crawl under the stage to try and get it while the killer sits directly above. Go buy a tub of popcorn and a Coke, this movie is great.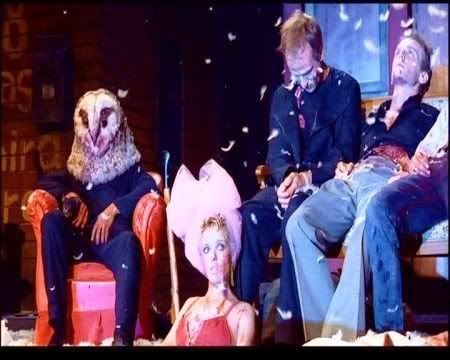 Cassandra Maples
Super Reviewer
Deliria (Bloody Bird)(Sound Stage Massacre)(Stage Fright) Quotes
There are no approved quotes yet for this movie.