Demon Under Glass
(2002)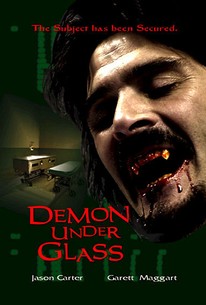 AUDIENCE SCORE
Critic Consensus: No consensus yet.
Movie Info
A bloodthirsty serial killer is stalking the streets of Los Angeles and the LAPD remains powerless to defend the citizens of the city in this shot-on-video frightener from filmmaker Joe Cunningham. The mysterious killer has been draining the blood of his female victims and leaves no trace of forensic evidence. A joint task force between the FBI and the LAPD is set up in hopes of designing a trap for the brutal killer, but the FBI knows something that it isn't sharing with the local law enforcement -- the killer is not human, but a superhuman being more powerful than any man. Was this creature a creation of some sinister supernatural force, or simply the creation of science gone too far? ~ Jason Buchanan, Rovi
Rating:
NR
Genre:
,
Directed By:
In Theaters:
On DVD:
Runtime:
Critic Reviews for Demon Under Glass
There are no critic reviews yet for Demon Under Glass. Keep checking Rotten Tomatoes for updates!
Audience Reviews for Demon Under Glass
½
Some really bad acting, obviously very low budget. However, the idea behind it - the emotional and spiritual conflict over whether Martin is a monster or a hero, the ethics of what can and should be done in the name of science, is very interesting. If the idea were taken by better writers, actors, and a big budget - something could come of it.
Summer Foovay
A team of government doctors are charged with studying a captured vampire (Carter), but, slowly, the amorality of the project and the evil of the subject starts to erode the ethics of the physicians and the line between healers and monsters becomes increasingly blurred. Finding a gem like "Demon Under Glass" is what makes wading through the huge heaps of crap that make up the direct-to-home-video releases. With very little violence and lots and lots of talking, this is perhaps one of the best and creepiest vampire movies I've seen. The more I think about it, the better it gets. With a cast made up actors whose credits seem to be mostly character roles on television (you'll recognize just about every lead actor, but you probably won't know where from), who have a great script populated with well-drawn characters and a captivating story that unfolds at a slow, steady, exactly dead-on, to work with, this is a great horror film that I highly recommend to fans of the genre. In fact, the only complaint I have is that a couple of the character names are a bit cutesy, such as the vampire's surname being "Molinar" and the head of the military security detail being named "Captain Stuebings". These do not subtract that much from the film, though. Track down a copy of "Demon Under Glass". I'm sure you won't regret it, because this is a film that will stay with you awhile. Demon Under Glass Starring: Jason Carter, Garrett Maggart, Jack Donner, and Ray Proscia Director: Jon Cunningham -- One of the ways to get "Demon Under Glass" is in the "Bite Night" DVD multipack (and the asking price for that is worth paying for this film alone, [url="http://www.amazon.com/exec/obidos/redirect?link_code=as2&path=ASIN/B0009WPLC6&tag=stevemillesdo-20&camp=1789&creative=9325"]buy it from Amazon.com[/url]). Other recommended films in the set (and which I've previously reviewed) are [url="http://www.rottentomatoes.com/vine/journal_view.php?journalid=245672&entryid=302302&view=public"]Beyond Evil[/url], [url="http://www.rottentomatoes.com/vine/journal_view.php?journalid=245672&entryid=305231&view=public"]Headcrusher[/url], and [url="http://www.rottentomatoes.com/vine/journal_view.php?journalid=245672&entryid=304909&view=public"]The Mansion of Madness[/url]. Now, the set also contains some films so lame they aren't even in the Rotten Tomatoes database, and some totally unwatchable crap (like [url="http://www.rottentomatoes.com/vine/journal_view.php?journalid=245672&entryid=317943&view=public"]Back From Hell[/url], which truly is one of the worst movies ever made), but I think overall the package is a good value.
Steve Miller
½
[img]http://www.homestead.com/thejcc/DemonUnderGlassPoster.jpg[/img] Demon Under Glass was a film that I picked up in the bargin bin at Best Buy a few weeks ago. Mainly because I'm a big Vampire movie fan and two I thought the premise sounded interesting. For $5.99, I figured I'd give it a shot. [b]The Acting-[/b]Fairly Solid acting from the cast. The main characters Dr.Myers and Vlad where done well. Those two where the stand out performances in the film. The rest of the acting ranged from avg to decent, but nothing outstanding. [b]The Story-[/b]Now this is where I felt the film really shined. The story is a very interesting take on Vampires. Its more like a study on Vampire nature and why they are what they are. More so than a horror movie. I wouldn't even call this film a horror movie to be honest. A thriller/Drama would be more like it. But I thought the story was well done and interesting. [b]The Cinematography-[/b]Fairly well done seeing it was a digital video film. Some interesting shots, but straight forward is probably the best way to describe it. [b]F/X's-[/b]Another good aspect of this film. Allthough it wasn't really one of the predominate factors of the film, I have to say I was fairly impressed with the F/X's. [b]Overall-[/b]A very interesting film. I can honestly see alot of people not likeing this film. Its different thats for sure. It almost has that documentary feel to it. I don't know, but thats the best way I guess I could describe it. There are also some very smart anologies to the vampires nature and even some very interesting quotes from the doctors themselves as they try and walk that fine line of what is right and wrong and how far they will go in the name of science. One quote that really stuck out to me was. [i] "I wonder if this was how Dr.Mengla started out? It all seems rational and just in a certain light." [/i]I thought that quot right there was pretty damn deep myself. The one thing about this film that I can see might be a downfall with some people is the pacing. Its a very slow paced film. It depends more on the story than action to carry it. I thought it did a good job with this, but I can totaly understand where that would be a turn off for some people. If your a low budget Indie film fan or a vampire fan, I'd recomend giving this film a shot. Just because, like I said, its a very interesting take on Vampires. You may really end up enjoying it. And its only $5.99 so your not really out much if you do pick it up and don't end up liking it. You never know though, it could turn out to be something that you really like. 7/10
Thomas Washburn Jr
Demon Under Glass Quotes
There are no approved quotes yet for this movie.