Den du frygter, (Fear Me Not)
(2009)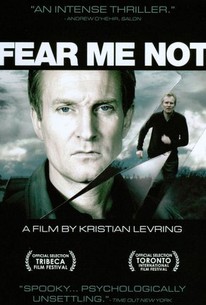 Den du frygter, (Fear Me Not) Photos
Movie Info
Director Kristian Levring examines middle-class disenfranchisement in contemporary Copenhagen with this chilling psychological drama about a family man who just can't help but suspect that he's not as happy as he should be. Mikael (Ulrich Thomsen) is a workaholic husband and father who's recently taken some time off work to move his family into his wife's childhood home in the suburbs. He wants to learn how to relax, and it seems like this latest move is a step in the right direction. His wife, Sigrid (Paprika Steen), is a successful executive, their teenage daughter, Selma, seems content with their decision to relocate, and the family is surround by a great support system that includes kindly Frederik (Lars Brygmann) and his girlfriend, Ellen (Stine Stengade) -- so why is it that Mikael is still feeling so strained all of the time? Unable to sleep and constantly wound up, Mikael seizes the opportunity to take part in a drug test for a new antidepressant that Frederik is helping to market. At first the drug seems to have a considerably positive effect on Mikael's outlook, though before long he's isolating himself from family and friends while growing more detached than ever before.
Critic Reviews for Den du frygter, (Fear Me Not)
Audience Reviews for Den du frygter, (Fear Me Not)
Well it was interesting, well performed, nice set up and a decent twist I didn't see coming but it could of taken it to the next level. It's about a father named Michael who is unhappy and decides to take a leave of absence from work and try an experimental drug to help him unwind but has psychotic side effects that threatens his simple, privilege life. This could of been so much more terrifying than it ended being and it seemed like it didn't know what direction to take whether it was a startling psychological/thriller or a deep character driven drama. I thought it was very slow moving but I stuck it out thinking something big was going to happen and when something actually did happen it didn't take it anywhere or to new heights, it just ends. I was thinking to myself when the credits rolled, "what was the point of it all or trying to make"? It didn't explain anything completely and all I got was that he had a bad childhood but they never went into it at all, I hate when movies do that. Overall it was an intriguing movie with fine performances that had so much potential but pretty much fell flat to me and not worth seeking out and wasting time one but hopefully the semi similar upcoming movie Limitless will be more thrilling and stronger than this one. Skip it. What a waste!
Matt Slash
Super Reviewer
Den du frygter, (Fear Me Not) Quotes
There are no approved quotes yet for this movie.