Deranged
(2012)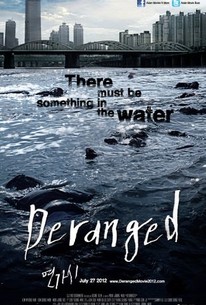 Movie Info
Just before dawn, gruesomely skeletal bodies surface on the Han River. The cause of death is determined to be a mutant parasite-a hairworm--that brainwashes its hosts, ultimately making them jump into bodies of water and to their death. Jae-hyuk, a salesman for a pharmaceutical firm, faces an enormous terror: his entire family has become host to the fatal parasite. But while he searches for the cure to save his family, the parasite becomes a nationwide epidemic. The government takes action and builds a camp for the patients, experiencing only a series of failures in their attempts to cure them of the horrifying disease. -- (C) Official Site
Critic Reviews for Deranged
Audience Reviews for Deranged
½
Jeong-woo Park goes with a national emergency in Deranged.
Like any thriller should, the film's story has some pretty solid buildup; however, even with only a run time of 1 hour 45 minutes, things get tiresome. Part of it is the events that unfold, while possibly more realistic in nature, are more frustrating than exciting.
The gore factor is minor and tolerable. It really isn't that bad once the pandemic is revealed for what it is, which the plot does quite early in the film. In turn, by doing this the rest of the story details become predictable.
Kim Myung-Min's character is a bit unlikable, but he is acceptable as the lead. Moon Jung-hee, Kim Dong-wan, and Lee Ha-nui are good cast fillers; the latter two could have been used more.
As far as national pandemic stories go, Deranged covers its bases. Even if it's once, it's worth a checkout.
Deranged Quotes
There are no approved quotes yet for this movie.