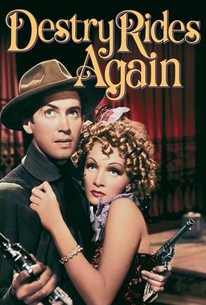 Destry Rides Again
1939, Western, 1h 34m
25 Reviews
2,500+ Ratings
Where to watch Destry Rides Again
Rent/buy
Rent/buy
Rent/buy
Rent Destry Rides Again on Amazon Prime Video, Apple TV, Vudu, or buy it on Amazon Prime Video, Apple TV, Vudu.
Rate And Review
Destry Rides Again Photos
Destry Rides Again (1939)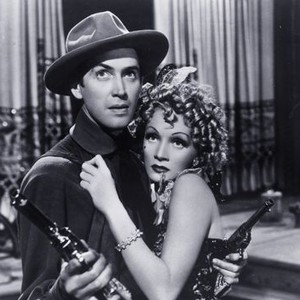 Destry Rides Again (1939)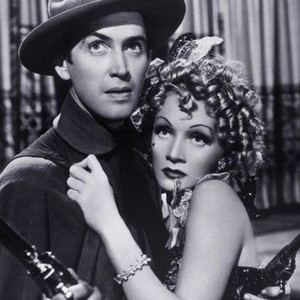 Destry Rides Again (1939)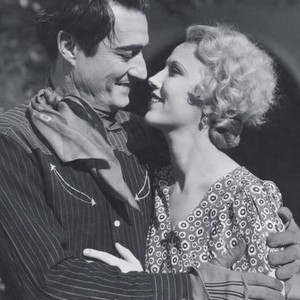 Destry Rides Again (1939)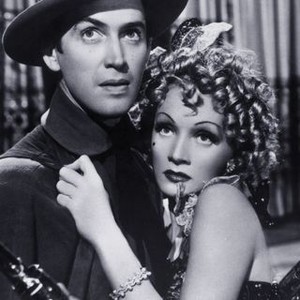 Destry Rides Again (1939)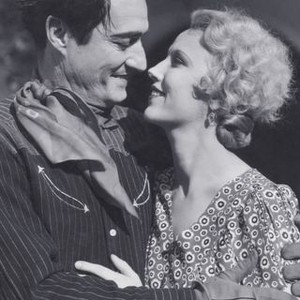 Destry Rides Again (1939)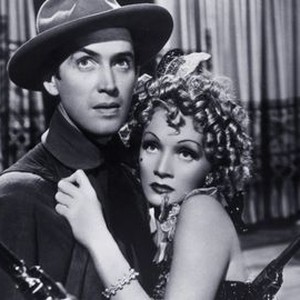 Destry Rides Again (1939)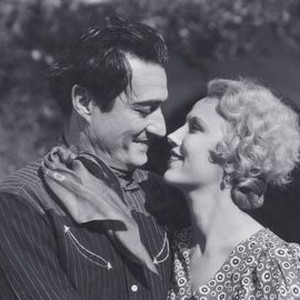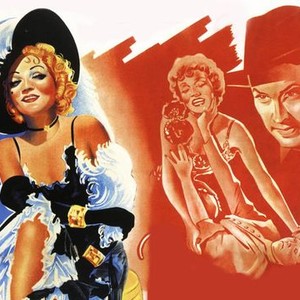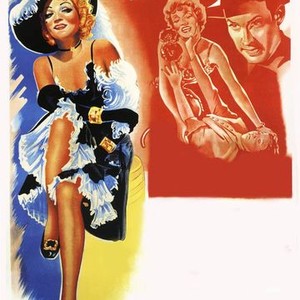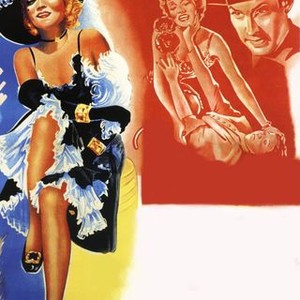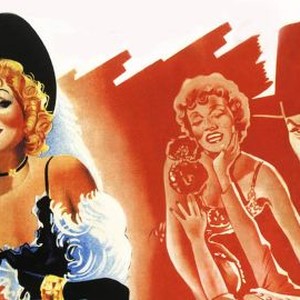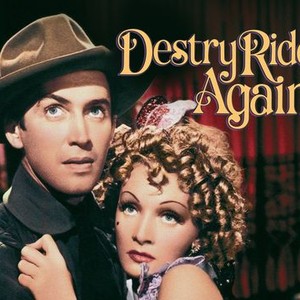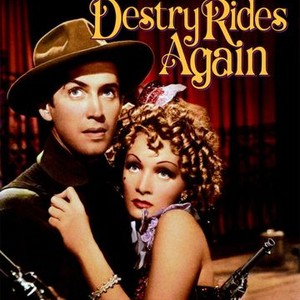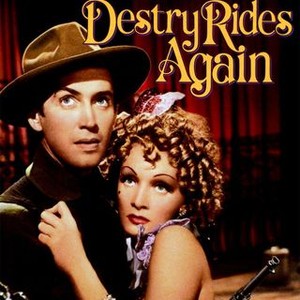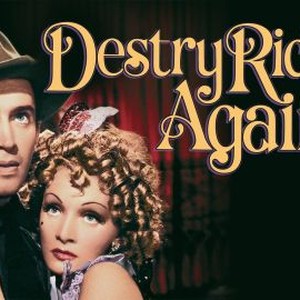 Destry Rides Again (1939)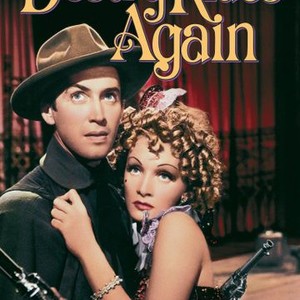 Destry Rides Again (1939)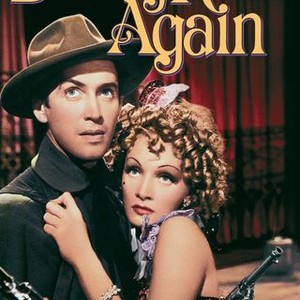 Movie Info
The small town of Bottleneck is under the control of Kent (Brian Donlevy), a power-hungry boss who gets control over the local cattle ranchers by winning a rigged game of cards. When the local sheriff questions the legitimacy of the game, Kent has him killed and names the town drunk, Dimsdale (Charles Winninger), as sheriff. What Kent doesn't know is that Dimsdale knows legendary lawman Tom Destry, who in turns sends his daring son Tom Destry Jr. (James Stewart) to Bottleneck to save the day.
Audience Reviews for Destry Rides Again
Some see this as a spoof of Westerns, but I didn't see it that way at all. You have all of the classic elements here - a lawless town led by a bully (Brian Donlevy), a new lawman (Jimmy Stewart), and a saloon singer with an edge (Marlene Dietrich). One of the differences to a standard Western, if there is such a thing, is in Stewart's approach to enforcing the law. Having seen what guns will do even to those who are tough and quick on the draw, like his father who was gunned down in the back, Stewart doesn't even carry them. When provoked or mocked, he tries to defuse the situation with gentleness and humor. He has his limits, and is not completely nonviolent though. He shows just enough shooting ability to keep people wary, and we see that there is a toughness and bravery in his calmness, and the fact that he doesn't escalate conflicts. What a fantastic hero he makes in this film. Stewart was really hitting his stride in 1939, and delivers another strong performance here. Marlene Dietrich is also brilliant. She's tough, standing up to the rowdy patrons of the saloon, throwing a barrage of items at Stewart on one occasion, and on another, getting into a terrific brawl with a lady in the town (Una Merkel), which only breaks up when Stewart douses the pair with a bucket of water. She also performs a couple of songs, "See What the Boys in the Back Room Will Have" and "You've Got That Look", and there is something special about the way she sings the lines "I should be brave and say, 'Let's have no more of it!', but oh what's the use when you know, I love it!," in the latter, slowly purring out that last bit. Dietrich may not seem like she would be well cast for a Western but she fits in very well, with such feistiness and playfulness in her eyes, and great chemistry with Stewart. How unfortunate that censors had one little bit removed from her performance, which was after she wins some money gambling, tucks it into the front of her dress, and apparently quips "There's gold in them thar hills." I can just picture it though. Another way in which the film is different from a standard Western is in its comedic elements. Stewart is actually only a deputy, appointed by the new sheriff (Charles Winninger), who himself was only appointed by the corrupt mayor (Samuel S. Hinds) because he's the town drunk, and considered hapless. In a bit of a surprise, he immediately takes his job seriously, lays off the bottle, and contacts Stewart. Thereafter, though, he's largely a comic foil to Stewart, and the pairing is a good one. I was less of a fan of a Russian character (Mischa Auer), who among other things loses his pants at cards to Dietrich and goes around trying to steal other men's pants. He just seemed too silly and distracting to me, but he does help keep the tone of the film a shade lighter than it otherwise would have been. The message of the film, particularly at a time when the world was nearly the outbreak of WWII, is pretty remarkable. It blends trying to avoid conflict if at all possible with not being completely naïve, elements we obviously see in Stewart's character, and still further, with the need for common people to ultimately stand up for themselves against evil, as we see in the town's women characters towards the end. Stewart, Dietrich, and this message - it's really hard to go wrong here.

Until recently, I assumed this was just the usual old-fashioned Western. Didn't realize it was funnier than the norm nor, more importantly, just how much "Blazing Saddles" owes to this story (the new sheriff who thwarts the enemy in non-violent ways, the vampy German saloon singer, the drunken sidekick with past glories...). That said, "Destry" wasn't quite as much of a comedy as I hoped, though the recurrent "I knew a guy" gag is wonderfully droll. And Marlene Dietrich is lots of fun to watch -- she's obviously having a ball with her role.

This is a fun movie! Frenchy (a strange character name) played by Marlene Dietrich is the inspiration for Madeline Kahn's Lili Von Shtupp. Destry is another great creation by Jimmy Stewart. There are plenty of slapstick bits from the barroom brawls and the supporting characters and heaps of wisecracks from Destry, who would rather reason his way out of a fight than shoot his way out.

A classic American western that's surprisingly comedic. James Stewart and Marlene Dietrich are electric. Stewart is his usual, brilliantly empathetic self as a peace-loving deputy recruited to help bring order to the lawless town of Bottleneck. Dietrich seems just a little out of place as a sultry saloon singer, but her chemistry with Stewart more than compensates for any slight of casting. <i>Destry Rides Again</i> helped set the standard for the long list of western genre films that followed. This is good stuff!
See Details