Devi (The Goddess)
(1960)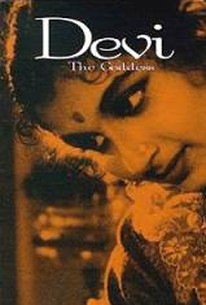 Movie Info
A young woman's father-in-law begins to believe that she is a reincarnation of the goddess Kali, to whom he is strongly devoted. As she falls under the adoring eyes of other villagers, she begins to lose herself to the illusion.
Critic Reviews for Devi (The Goddess)
Audience Reviews for Devi (The Goddess)
"Not to have seen the cinema of Ray means existing in the world without seeing the sun or the moon." Akira Kurosawa In that case I am seeing the sun and moon for the first time. The Goddess, otherwise known as Devi, is a simple but memorable tale. Doyamoyee is a young woman living in a rural town in Bengal with her wealthy extended family. Her Husband is studying English, and although she doesn't want him to, he leaves for Calcutta to finish his exams. One night Doyamoyee's Father-In-Law has a vision that Doyamoyee is the incanation of the Goddess Kali, he gets up and falls at her feet. Believing that she is a Goddess, her family and the villagers start worshipping her. Doyamoyee doesn't belive for a second that she is in fact a reincarnation and can do nothing to stop it. Until one day, when a sick child is bought to her and surprislingly is cured. This event leads Doyamoyee to question whther she really could be a Goddess. By this time her husband has now returned and makes an offer of running away from this madness, but she refuses as she can't be sure whether she is a reincarnation or not. When another sick child is bought to her, (her nephew), she fails to cure him. This leads Doyamoyee to run away, and in the beautiful final scene we see her running into the midst uncertain of her fate. Beautifully shot in black and white and surprisingly good, this exceeded my expectations. I look forward to exploring Ray's work more.
Devi (The Goddess) Quotes
There are no approved quotes yet for this movie.