Dinotasia
(2012)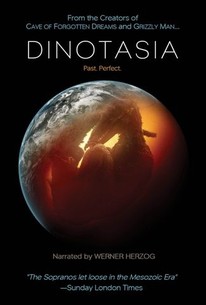 Movie Info
The good old dinosaur, gets a makeover and then some in this fantastically ambitious and groundbreaking documentary. Based on cutting-edge palaeontology and the latest fossil records, DINOTASIA presents a series of vignettes about dinosaurs - both familiar faces and some we have only found out about in the past ten years. Werner Herzog narrates, reuniting with the team behind GRIZZLY MAN and CAVE OF FORGOTTEN DREAMS. (c) Official Site
News & Interviews for Dinotasia
Critic Reviews for Dinotasia
Audience Reviews for Dinotasia
I don't watch the dinosaur shows on cable television, and I'm not educated enough to know whether or not current research supports these creature's depictions - like the T-Rex piling dung and other material on top of their eggs to create warmth via a compost heap - but this was a charming handful of vignettes about the only alien world the human race will likely know for a long time. The writers smartly created stories we could identify with, like one following an eccentric dinosaur whose fixation in the entertainment of moving objects (think of any dog ever) catches him in mortal danger, and another whose curiosity finds themselves drugged by mushrooms into a semi-incoherent state and in danger by two opportunistic predators. Then there are the themes and emotions in parenting, where among the few stories told, one begins with a winged reptilian mother teasing her three nest-bound young with a fish. She then swallows it whole to demonstrate that the free-ride is over and it's their time to fly and feed themselves. I won't say what happens next, but let's just say nature, by default, is not on any individual's side. "Dinotasia" handles the story of the dinosaurs as a dark comedy that reminds us of our own fragility and potential impermanence, relying on luck, fate, and instinct. I recommend checking it out while it's on Netflix streaming.
Matthew Slaven
Super Reviewer
A low budget is no excuse for such low quality. Not even Herzog can save it.
Marcus Woolcott
Super Reviewer
Dinotasia Quotes
There are no approved quotes yet for this movie.