Clickety-Clack (Dodes'ka-den)(Dodesukaden)
(1970)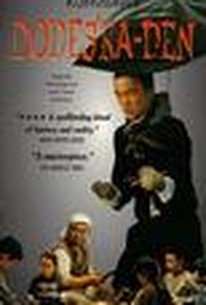 Clickety-Clack (Dodes'ka-den)(Dodesukaden) Photos
Movie Info
Dodes'ka-Den (aka Dodesukaden) was Japanese filmmaker Akira Kurosawa's first project since Red Beard (1965), and his first ever in color. Kurosawa focuses this time on Tokyo slum life. We watch as a variety of unfortunates debase themselves to survive, yet, somehow, emerge with more innate dignity than the so-called "better" people. While it seems inconceivable that Dodes'ka-Den would fail at the box office, fail it did upon its original release. The Japanese distributors hastily pared down the film's 244 minutes to 140 (unfortunately destroying the original negative in the process), but this version also came a cropper. It was the negative reaction to Dodes'ka-Den, which allegedly prompted Kurosawa to attempt suicide. Happily, he survived to reclaim his industry stature with 1976's Dersu Uzala. ~ Hal Erickson, Rovi
News & Interviews for Clickety-Clack (Dodes'ka-den)(Dodesukaden)
Critic Reviews for Clickety-Clack (Dodes'ka-den)(Dodesukaden)
Audience Reviews for Clickety-Clack (Dodes'ka-den)(Dodesukaden)
½
Watched most of this. Interesting, but couldn't entirely warm to it. A lot happening, yet nothing.
Nicki Marie
Super Reviewer
½
Much like a companion piece to Kurosawa's earlier film The Lower Depths. However, there is a greater ensemble aspect in this film, whereas in The Lower Depths the story of Mifune was at the centre. I had read some mixed reviews about this film, but by the end I was convinced that this is a very good film which highlights the existential angst of poor people and also has a humane aspect to it. The multiple story lines are not very interesting at first, which is probably the only criticism of the film. However, about half way through everything falls into place and the film is very interesting to watch. Katsuko's storyline is the most watchable. The scene where she is raped by her adoptive father is very horrifying and unsettling. Kurosawa treads a very fine line throughout this film between sentimentalizing his character's and their plight. At times it feels that he is, at others it feels that he is not. Another criticism is that it was a bit excessive. Highlights of the film include the artwork and the apocalyptic imagery at times. Wonderful experimentation by Kurosawa with set design in this film.
½
With "Dodes 'Ka-Den," Akira Kurosawa goes against the grain in depicting a shantytown, with only a handful scenes set outside of its boundary, by not going the neorealist route. Instead of muting the color schemes to make the situation look as bleak as possible, the color palette here is as bright as possible to connote a vibrant, if struggling, community. This does not mean he is romanticizing or glamorizing the lives of the denizens, as the tragedies and heartbreaks of their daily lives take center stage in a series of vignettes. And the first scene of "Dodes 'Ka-Den" sets the stage for everything else that follows with a young man(Yoshitaka Zushi) praying with his mother(Kin Sugai) before going off to work. But it is an imaginary job, as he only dreams of driving a trolley(dreams play a huge role in the movie), venturing away from home as the viewer is introduced to his fellow characters. With him, Akira Kurosawa seems to be saying that as long as he is not hurting anyone, where is the harm? This stands for the other characters, too, despite their flaws and handicaps.
Clickety-Clack (Dodes'ka-den)(Dodesukaden) Quotes
There are no approved quotes yet for this movie.
Discussion Forum
Discuss Clickety-Clack (Dodes'ka-den)(Dodesukaden) on our Movie forum!