Don Quixote
(1992)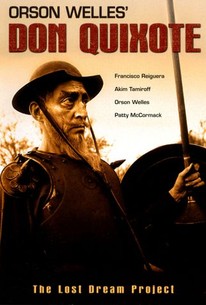 Movie Info
Over the course of his lifetime, the legendary director Orson Welles (1915-1985) was forced to leave many of his grander movie-making projects unfinished, generally for want of sustained financial backing. Each successive unfinished effort generated buzz throughout the worshipful film community that only served to brighten the luster of his legend. Thus it was only a matter of time before one of his many admirers bought the rights to the fairly extensive footage he shot for his film Don Quixote (begun in 1955) and attempted to edit it into some semblance of a finished film, based on research into Welles' stated intentions and notes. A fuzzy, out-of-focus print of the resulting film was shown at the 1992 Cannes Film Festival, and it was immediately deemed as a hashed-up job, a travesty bordering on the sacrilegious, by the assembled deeply interested and knowledgeable viewers. Their criticism focused mainly on issues that ordinary viewers would deem excessively technical, but the gist of it was that this was a very un-Wellesian use of Welles' footage. However, the film does offer viewers a unique opportunity to see some of the master's mature story ideas onscreen. In addition to footage from the film, the movie is also a kind of semi-documentary homage to Welles, showing footage of the famed director at work.
Critic Reviews for Don Quixote
Audience Reviews for Don Quixote
Yes, the film is a mess but it is an interesting mess. The actor playing Don Quixote certainly looks the part. Besides that, there are some nice shots but nothing complete, no unity. I would recommend it only to those who have read Don Quixote, love film, and can set their expectations lower.
Robert Brogan
Super Reviewer
½
This reconstruction of Orson Welles' unfinished "Don Quixote" didn't offend me quite as much as it offended some other Welles fans -- hey, at least his long-time girlfriend Oja Kodar is credited as a consultant. Erratically filmed between 1955 and 1969 (mostly in 1957), this choppy footage has dialogue dubbed by contemporary actors -- and not very well. Beyond issues of artistic purity, this awkwardness is the film's worst handicap. It's also somewhat distasteful that the person who reads Welles' typically droll, witty narration is a calculated impersonator. But some interesting ideas emerge anyway. This is not your usual "Don Quixote" adaptation. Sure, it starts in a traditional way, but once Quixote and Sancho Panza reach the city, the story turns more surreal and self-reflexive. The time period turns out to be contemporary (surprise), yet Quixote and Panza are not informed about modern technology. Quixote's first delusional battle is with an evil motor scooter, and Panza spends a substantial, somewhat irritating amount of time asking people where to find the "noisy little box" (a television set) that he happened upon earlier. But this world recognizes Quixote and Panza and, furthermore, famous director Orson Welles is in town shooting a version of their story and just might need them for the lead roles. (Apparently, some of the Welles material is little more than home movies of Spain shot for an unrelated travelogue documentary.) Another interesting quirk is that the Welles-like narrator occasionally breaks convention and directly speaks with Panza. Director Jesus Franco (who worked on Welles' "Chimes at Midnight") is responsible for this assemblage, for better or worse. He pieced together his own version of the famous windmill-tilting scene (Welles had a different idea for the sequence that went unrealized), and possibly went against Welles' wishes in using the legendary director as an onscreen presence. "Don Quixote" has little of the distinctive camera angles and lighting that one might expect from an Orson Welles project, but it should intrigue film buffs despite its dubious credibility.
Eric Broome
Super Reviewer
½
"Orson Welles' Don Quixote" is a trippy and playful adaptation of the venerable novel that starts pretty much as expected. Don Quixote(Francisco Reiguera) is an aging landowner who decides, after a copious amount of reading of romantic adventures, to don an ancient set of armor and to have a series of (mis)adventures with Sancho Panza(Akim Tamiroff), a peasant friend, as his squire much to his perpetual consternation, in search of his beloved Dulcinea and giant windmills to battle. As austere as the budget seems to be, at least they could afford horses and the windmill sequence is captured with imagination. What sets this version apart and is the most jarring detail is its being set in the present day as Quixote brutally attacks a Vespa.(If he only waited a few decades, he would have found a much more deserving target in an SUV.) The time is important because after a while Orson Welles takes the story away from the book as Sancho Panza finds himself acting in a movie called "Don Quixote" by Orson Welles. It is evident that Don Quixote, who lives in a land that is better than the real one was, appeals to the dreamer in all of us, especially Welles. Contrary to this theory is an extended sequence revolving around a bullfight, which indicates he might have been more interested in filming the people of Spain than its classic literature which not counting Terry Gilliam might disprove the rumor of a curse being associated with films of "Don Quixote," as this was not the only incomplete work Welles left behind.(This was finished after his death.) On the other hand, "Farscape" was canceled shortly after its own take on "Don Quixote." So what do I know?
Don Quixote Quotes
There are no approved quotes yet for this movie.