Donkey Xote
(2007)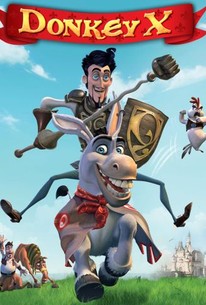 AUDIENCE SCORE
Critic Consensus: No consensus yet.
Movie Info
Miguel de Cervantes' classic tale of an errant but idealistic knight gets retold from a new perspective in this animated comedy. In Donkey Xote, Rucio (voice of Luis Posada) is a donkey owned by Sancho Panza (voice of Andreu Buenafuente), and Rucio offers to tell us the inside scoop about his master and his partner Don Quixote (voice of Jose Luis Gil). According to the donkey, Don Quixote was actually a handsome gentleman who longed for the hand of the beautiful Dulcinea (Sonia Ferrer). However, in this version of the story, Dulcinea has a hard time choosing between the knight and his loyal sidekick Sancho Panza, and their rivalry leads them on a journey across Spain to Barcelona as they vie for the beautiful woman's affections. Donkey Xote was directed by Jose Pozo, who previously brought a classic tale of Spain's past to the screen with 2003's El Cid: The Legend.
Critic Reviews for Donkey Xote
Audience Reviews for Donkey Xote
Oh! Wow that is a terrible movie, end up hating her. And the main failure of the whole film is absolutely no point, everything is all bad and falls into the boring and tedious. The story is quite distorted to the point where you feel ridiculous. Just a failed attempt to take a story that pretended to be funny, to a movie.
Rodrigo Ramirez Corona
Super Reviewer
Donkey Xote Quotes
There are no approved quotes yet for this movie.