Dont Look Back
(1967)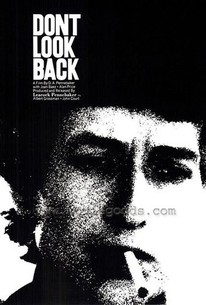 Movie Info
In 1965, filmmaker D.A. Pennebaker accompanied Bob Dylan to England to make a film about the singer/songwriter's British tour. At the time, no one could have known how fortuitous Pennebaker's timing would prove to be. Within a few months of this tour, Dylan would forsake his role as The Conscience of Folk Music to pick up a Fender Stratocaster and play rock and roll. Within a year, Dylan would suffer a motorcycle accident that would put him out of commission for nearly 18 months. Recording several brilliant solo performances and capturing a wealth of fly-on-the-wall footage of Dylan's interactions with friends and strangers, Pennebaker caught Dylan on the cusp of a radical career change, and the man in this film seems to be thrashing about in his shackles, looking for some sort of escape route.
News & Interviews for Dont Look Back
Critic Reviews for Dont Look Back
Audience Reviews for Dont Look Back
I like the synopsis at the top of the page. It isn't a great film but there is great stuff here. Like watching a movie of your parents at a younger age, we get a since of what the prime Dylan was like and the historical first attempt at the music video.
John Ballantine
Super Reviewer
½
Great, with "Don't Look Back", or in this case, "Dont Look Back" taken (good ol' Bobby D was so unconventional, he didn't believe in apostrophes), now what are they gonna call the Boston rockumentary? I mean, it's such a saying that's been done to death, much like how the song "Don't Look Back" followed Boston's formula that had been done to death (Still a pretty good song), so on regular terms I don't think we would mind too much if a Boston documentary used it. However, that documentary would be too similar to this one, as it would also be a music documentary, with the primary focus being from one of the whitest areas in America. Yeah, I know that Massachusetts isn't that white, but considering how segregated Boston still is, if you take a step in right, or rather, white direction, the only difference between Boston and Bob Dylan's hometown of Minnesota is that Boston has different and more ignorant-sounding accents, a higher crime rate, more drug issues, run-down towns and as one of the finest universities in America, and other than that, Boston may as well as be Mini-Minnesota. Anyone else love how I'm supposed to be talking about Bob Dylan, and yet seem more interested in a band that debuted almost ten years after this documentary came out? As you can tell, I'm more into rock, yet I do enjoy the occasional sample of the smooth, soothing and transcendant sounds of the high-pitched, sustained sharp notes by the folk legend. It certainly makes for a good documentary, and it's called "No Direction Home", which isn't to say that this documentary is bad, yet it's not at all without its faults that it's hard to not actually look back at. I've got to say that I'm seeing what the critics are talking about, because this is some good old fashion music documentary filmmaking; back when they had hardly any, if at all any discernable point. Oh wait, the critics are calling this masterpiece classic (*cough*be*cough*cause*cough*it's*cough*old*cough*), and not an aimless mess, much like many documentaries of its time and era that were. The film is all but entirely devoid of narrative structure, drifting from footage clip to footage clip, and occasionally having that footage be feature someone playing music, while the all too rare occasions in which the film does adopt some faint degree of focus also go plagued, as it is so faint, as well as brief, being immediately followed, if not actually broken up by the continuous excess of footage. For the longest of periods, there's absolutely no music, and until we get to a mild piece of narrative - which is almost never not dead on its feet when we get there -, it's just long periods of absolutely nothing, but nothing. The film is just so aimless and, at times, rather dull, plain and simple, a non-structure found in many films of this type and time, thus making it, on top of everything, rather conventional. This documentary is a mess if there ever was one, and yet, it's messy in just the right way. True, the film can never achieve the state of being genuinely good (Critics), as it is so aimless, yet it's still an enjoyable watch, because whatever kind of structure it's following hits perhaps just a little bit more than it misses. Clearly, this documentary could care less about an ultimate point and purpose amidst its aimless barrage of total nothingness, looking only to serve as an avatar for the audience to immerse them within the world of its subjects. More than a fair couple of slip-ups in that department, and this effort falls to pieces, yet lucky for it, while writer, director and editor D.A. Pennebaker couldn't make this mess into a consistent narrative to save his life, he certainly knows what he's doing, as far as setting up an immersive environment. The endless footage assembled by Pennebaker is often trimmed down to particularly focus upon the casualness of Bob Dylan, both on his own and with his friends, bandmates and other associates. The comradery that Dylan shares with these associates, as well as his own notorious charisma and wit is extremely palpable, as it's right there on the screen, going intensified by a relaxed atmosphere set by Pennebaker, as director, whose laid-back approach to this project may also serve detrimental to it, yet also makes it rather transcendant in a way. However, when it comes down to focusing on the career of Dylan, Pennebaker's editing, structure and atmosphere gives subtle, yet generally effective insight into both the art of Dylan and, to a degree, the business that surrounds it. There's a charm in the film's simplicity, and while it, likely on purpose, fails pretty spectacularly at delivering on general point, it succeeds at what it sets out to do. In the end, this film is, in fact, rather immersive, and with all of its bumps and lows, it's hard to not stick with this very down-to-earth, rather gripping portrait on the life of Dylan by the mid-1960s. Looking back, this documentary was conventional for what it was at the time, and in many of the wrong ways, being aimless and pointless, with the slightest hint of narrative quickly going dashed away for the sake of total nothingness, all for the sake of creating an immersive atmosphere, which is an attempt that could have destroyed this film, yet saves it, as writer, director and editor D.A. Pennebaker has managed to assemble an often thoroughly charming look at Bob Dylan's personal life, as well as a rather fascinating occasional look at his professional life, thus leaving "Dont Look Back" to stand as a generally enjoyable portrait on a period in Bob Dylan's life and career, even if that is seriously all it is. 2.5/5 - Fair
Cameron Johnson
Super Reviewer
Amazing . . .
My dear niece, who first invited me to join flixster actually, was working the bar at a London venue where Bob Dylan was playing. At some point she was sent backstage to deliver Dylan a beer. Like me, my niece is a big fan of his; we still are. Her report: He was not very pleasant.
I'm sure Dylan is not the only celebrity who may not come off well from time to time in public interaction. I know I'd never want to have a beer with Dylan, but I won't let his personality quirks color the power of his music for me. My niece and I do remain big fans.
Note to self: You will never be famous. How do I know this? No one ever follows me around like this in my day-to-day routine with a camera.
Lanning : )
Super Reviewer
Dont Look Back Quotes
There are no approved quotes yet for this movie.