Dr. Dolittle
(1998)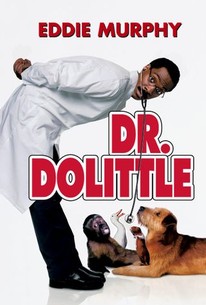 Movie Info
Betty Thomas directed this adaptation of the classic children's stories by Hugh Lofting (1886-1947), updating the original concepts into the present day. When noted surgeon Dr. John Dolittle (Eddie Murphy) swerves his car to avoid hitting a dog, he hits his head on the windshield, triggering his long-dormant gift for holding conversations with animals. Friends, associates and his wife Lisa (Kristen Wilson), all express concern, but Dr. Dolittle is happy as he takes on new animal clients. Soon Dolittle's clinic becomes a haven for talking rats, birds, and other assorted members of the animal kingdom, and Dolittle's new four-legged and furry friends, in turn, teach him a few things about being human. The effects seamlessly combine Jim Henson Creature Shop animatronics, computer graphics, and real animals, but some viewers might yearn for a return of the Great Pink Sea Snail and Lofting's other imaginative creatures. The 1967 20th Century Fox musical Dr. Dolittle starred Rex Harrison in a strange storyline that began with Dolittle escaping from a lunatic asylum and leaving the Victorian village Puddleby-by-the-Marsh, England, to search the South Seas for the Great Pink Sea Snail. Along the way, he gathered diverse Dolittle denizens and animal anomalies, including the Giant Moon Moth and the famed, two-headed Pushmi-Pullyu. The earlier film spawned the Oscar-winning popular song success, "Talk To The Animals," along with numerous now-forgotten toys, books, and collectibles. ~ Bhob Stewart, Rovi
People Who Like this movie also like
News & Interviews for Dr. Dolittle
Critic Reviews for Dr. Dolittle
Audience Reviews for Dr. Dolittle
Hugh Lofting's Dr.Dolittle is really a bad decision to make an adaptation to the cinema. Both the original picture and this remake are a very dumb and honest... a piece of crap. Rotten.
Lucas Martins
Super Reviewer
This is yet another awful remake of a classic film. Eddie Murphy plays Dr. Doolittle, and this is one of the films that he's done where his acting suffered quite a bit and his comedic delivery started to be quite boring. After this dreadful film, Eddie Murphy starred in Bowfinger which was great, but really Dr. Doolittle was the one that was one of many misfires to come from the actor. This is a boring, unfunny film that should never have been made. This film doesn't entertain, but it might entertain young kids and families looking for a good time, however this is mostly a moronic remake of a classic film, and everything about the film seems out of place. This is a pointless comedy that should never have been made, and the cast seem bored and the jokes were stale. The film gets tiresome very quickly and you simply want it to end. Eddie Murphy started making crap with this film, and like I previously stated, this was the first many horrible films he would make. I didn't enjoy this film and I thought it was overall very stupid with nothing good to offer. Eddie Murphy was once pretty funny, but with films like this, he shows that he has nothing left to deliver in comedy. After this one, he simply became worse. Avoid this film, and watch one his earlier efforts instead. Better yet, watch an actual funny film. If you're looking for a great comedy, this remake sadly doesn't deliver.
I hate remakes, and this movie is no exception. Murphy takes this whole animal talking power too far. It's just not funny at all.
Dr. Dolittle Quotes
There are no approved quotes yet for this movie.