Dreams With Sharp Teeth
(2008)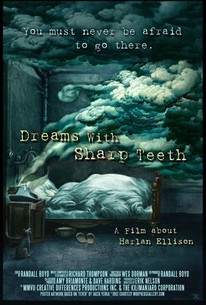 Dreams With Sharp Teeth Photos
Movie Info
Anyone coming to Dreams With Sharp Teeth expecting a formal, traditionally organized biographical sketch of author Harlan Ellison will be disappointed. But what they will find instead is Ellison more or less unchained and ranging (and raging) across his past and into the future (circa 2007), having great fun with his many and varied targets, and giving his own accounts of some of the triumphs that people often cite in his past. Perhaps the most satisfying moment comes when the author presents his version of one portion (one of the least controversial portions) of his Hugo Award-winning script for the Star Trek episode "The City on the Edge of Forever" -- he ends up making the production crew for the series look like fools, and longing to see the story told as he wrote it. By contrast, presented without comment is one excerpt of the award-winning Outer Limits episode "Demon With a Glass Hand," which apparently was shot more or less as he wrote it. In between and around these two polar opposite successes of his early career, Ellison rails and laughs, berates and curses, and generally has a great deal of fun launching his barbs at a multitude of targets, including himself, as often as not. One eerie aspect of watching him across this fast-paced account, which covers many decades of his life, is realizing how much Ellison resembles the late actor George Grizzard as he looked and sounded from the 1960s to the 21st century -- if there was an actor who might've portrayed this unique personality in a dramatic context, it was Grizzard. But much more important than any such mundane observations is the keen appreciation that the filmmaker has for his subject, sufficient to take us on what amounts to a cinematic roller-coaster ride across one part of Ellison's psyche. That's how it's paced, and that how it's best to take in this delightfully quirky and lively nonfiction film. ~ Bruce Eder, Rovi
Critic Reviews for Dreams With Sharp Teeth
Audience Reviews for Dreams With Sharp Teeth
Harlan's life imitates his art. Angry. Rebellious. Uncompromising.
Randy Tippy
Super Reviewer
This documentary is relatively even-handed as it presents Harlan Ellison, a prolific, important, but impishly angry writer. There are several laugh-out-loud moments of the cringe humor ilk as we listen to Ellison rant about fans, writers, Hollywood, politics, and writing. I enjoyed listening to much of what he had to say, but I don't think I could stand to be in the room with him unless I knew that he liked me and was unarmed.
Jim Hunter
Super Reviewer
Creative personalities, however bright their stars gleam, collapse under the weight of the world's pressures. Harlan Ellison, the brightest of all these literary stars, takes these impossible problems and swallows them whole. So is the subject of this insightful documentary, centering on the giant, with awards in the genres of sci-fi, mystery, and political commentary. Not only has this pillar written 70 novels, hundreds of short stories, nonfiction, teleplays, and screenplays, but is one of the most interesting human beings I have ever seen. Following his life in the limelight as an intellectual of unparalleled comparison, and his early years as a downtrodden Jewish teen in anti-Semitic Ohio, we are given a complicated maze in which to extract the personage of Ellison. Not only is he against all forms of bullsh*t, but was a figure in the civil rights movement, and a mouthpiece for education. Putting the praises aside, the trailer reveals the true payoff, which is that Ellison is also an intolerable narrator of his own life. He has awesome (and I mean that as in awe inspiring) knowledge to lay down in commentary throughout the film, speaking of what it is to be a writer, a famous personality, and an independent entity among the Hollywood elite and cultural milieu. He is loud, obnoxious, and at times reviles you, but is so entertaining and uncaring of the views of populist America, that not to appreciate his audacity feels like heresy. In the midst of all that prophecy he lays down, he is also a bitter, old, angry man, but with the credentials he has, it's hard to imagine him being anything resembling timid. He is, by all accounts, the most original person alive. Peppering his own narration is that of Robin Williams, Neil Gaiman, and Dan Simmons, great artists who not only see him as a glorious person, but the human he so truly embodies. This, is a film you must see, and cannot fully be explained. A film where creativity blooms, ripe to pick for the eager mind.
Spencer S.
Super Reviewer
Dreams With Sharp Teeth Quotes
There are no approved quotes yet for this movie.