Drive, He Said
(1971)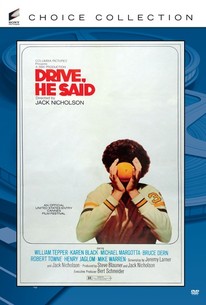 Movie Info
Jack Nicholson first put his well-documented enthusiasm for basketball to good use in this film, which he wrote and directed between his roles in Five Easy Pieces and Carnal Knowledge. William Tepper plays Hector, a student at a college in Ohio who shares a room with his friend Gabriel (Michael Margotta) and is the star player on the school's basketball team. Hector has been approached to quit college and play pro ball, but Gabriel is urging him to devote more time to radical political causes. Of course, both have plenty of other things on their mind; Hector is having a clandestine affair with the wife of one of his professors (Karen Black), while Gabriel, in a bid to beat the draft and avoid going to Vietnam, is trying to convince the draft board that he's insane. Unfortunately, Gabriel is feigning madness so well that he's not so sure he hasn't actually become crazy. Director Henry Jaglom and screenwriter Robert Towne also have supporting roles, as do future sitcom greats Cindy Williams and David Ogden Stiers.
Critic Reviews for Drive, He Said
Audience Reviews for Drive, He Said
½
Very dated anti establishment sort of drama. More of an antique than something made in the 30's. The lead actor has the magnetism of a lemming and it hurts an already weak film.
The relationships between characters make no sense and mean nothing. The pacing and camera work are fine, but there is no sense of importance in this film. The role of Gabriel should've been played by Nicholson if it was going to be in the film at all. The relationship between Olive and Bloom and Richard was just wacky and did not feel real at all. The film focuses on so many different relationships that it lacks grounding for characters and a central focus for the audience. The feel just feels like a bunch of meaningless and phony vignettes trying to gel as one.
It's a shame that one of the greatest actors of our time couldn't convince the lead in his directorial debut to give a credible performance. But William Tepper is only one of the problems with this meandering mess of a movie. It's a shame because there is a great story in here and the footage of the basketball games is well shot. Not to mention, Karen Black and especially Bruce Dern give fantastic performances which only makes the other bad performances stand out even more. As a big fan of basketball and Nicholson, this was a bit of a letdown.
Drive, He Said Quotes
There are no approved quotes yet for this movie.