Dzi Croquettes
(2009)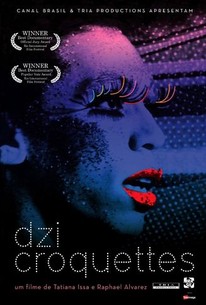 Movie Info
In 1964, a coup d'etat removed Brazilian president Joao Goulart from office, and a military dictatorship sprang up in his place. Brazil entered into a period of repressive politics, harsh government censorship and ugly reprisals against non-conformists and critics of the government, but a powerful voice of opposition came from a very unusual place. Lenny Dale was an American dancer and choreographer who had come to Brazil and fell in with a group of drag performers who had modeled themselves after the Cockettes, a flamboyant group of sexual anarchists who were making a name for themselves in San Francisco. Taking the name Dzi Croquettes, Dale helped transform the group into a remarkable cabaret act that used music, dance, outrageous costumes and provocative sexual ambiguity as a jumping off point for a satire of all that was repressive in Brazilian culture and a celebration of freedom from the confines of gender. Dzi Croquettes became wildly popular in Brazil, and after Liza Minnelli championed the group, they set out for a successful tour of Europe, with a run on Broadway in the offering. Dzi Croquettes never made it to America, and eventually ego, AIDS and a string of bad luck broke up the act, but for a while they were a remarkable voice of resistance and tolerance in a nation determined to beat down all opposition. Filmmakers Tatiana Issa and Raphael Alvarez chronicle the group's incredible true story in the documentary Dzi Croquettes, which was a multiple award winner at the 2009 Rio de Janeiro International Film Festival as well as the 2009 Sao Paulo International Film Festival.
Critic Reviews for Dzi Croquettes
Audience Reviews for Dzi Croquettes
I have issues with the film's editing, since the information is presented in a rather clumsy, haphazard manner (not to mention the heavy-handed way the director puts herself in it), but still this is such an engaging and enlightening doc about those groundbreaking artists.
Carlos Magalhães
Super Reviewer
Dzi Croquettes Quotes
There are no approved quotes yet for this movie.