Triad Election (Hak se wui yi wo wai kwai)
(2007)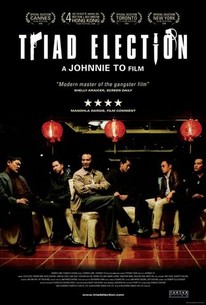 TOMATOMETER
AUDIENCE SCORE
Critic Consensus: Taking its cues from the Godfather series, Triad Election understands how a giddy mix of thrills and gunplay can make for compelling cinema.
Triad Election (Hak se wui yi wo wai kwai) Photos
Movie Info
Superstar action director Johnny To's Hong Kong gangster picture Triad Election (aka Election 2) revolves around Jimmy (Louis Koo), a second-tiered triad member vying aggressively for the position of godfather in the current election. He is restrained in his pursuits by the current mob boss, Lok (Simon Yam), who wants to hold on to his seat, despite the fact that his two years are up and he isn't officially eligible for reelection. This leads to a bloody, cutthroat, do-or-die battle of wills between the two men, carried out in some of the most astonishing set pieces ever constructed for an action opus, including a psychotic interrogation with knives and rabid dogs, a hide-and-seek battle at an outdoor café, and a shocking, ultraviolent denouement. To ads an additional level to the film by turning it into a scathing critique of the voraciousness encouraged by a laissez-faire economic system. Wong Tin-lam, Yao Yung, Lam Suet, Nick Cheung, Lam Ka-tung, and Mok Sing-lun co-star. ~ Nathan Southern, Rovi
News & Interviews for Triad Election (Hak se wui yi wo wai kwai)
Critic Reviews for Triad Election (Hak se wui yi wo wai kwai)
Audience Reviews for Triad Election (Hak se wui yi wo wai kwai)
½
Two years have past and it is time for the next election and many of the Triad "uncles" want entrepreneur Jimmy to take over, but Lok is unwilling to release his grip on power. The sequel to Election, like The Godfather II is a continuation of the previous film and there are many parallels that can be drawn between Jimmy and Michael Corleone. Both began as relatively benign characters who did not really wish to enter the gangster fraternity, but as their situations and therefore methods become more extreme it is obvious that there are no "good guys" in this shadowy world. All the events here just reinforce the fact that for all the talk of "honour" and "tradition", it's all a flimsy facade to paper over the corruption and brutality of their actions and the election is little more than a farce. Election 2 is a beautifully crafted gangster film, with an excellent cast exploring the themes, only touched on in the original, far more fully. It seems to me that the two films are really a single whole and should probably be seen together to get the full effect. If you like the Infernal Affairs Trilogy, I'd add them to your shopping list asap.
½
Vastly superior to the first one, more focused, a better script and just more straight to the point. People are executing others, or discussing how they are going to execute them. Tradition becomes just the excuse to break said tradition, loyalty means very little in the face of money, and punishment. Boy do these men are good a punishing other human beings. Good performances on everyone and the always sharp direction from To makes this a movie that deserves way more recognition. Also, a third part is a must.
Tsubaki Sanjuro
Super Reviewer
hardcore sequel to johnny to's election, even more brutal and bloody and every bit as badass. the heir apparent to john woo and hk gangster classics, minus the sentimentality
Stella Dallas
Super Reviewer
Triad Election (Hak se wui yi wo wai kwai) Quotes
There are no approved quotes yet for this movie.