Empire of the Ants
(1977)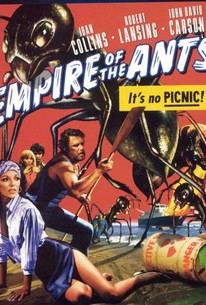 Empire of the Ants Photos
Movie Info
Based on a story by H.G. Wells, this unintentionally funny sci-fi horror thriller centers on the travails of foolish property buyers who unwittingly purchase land that is dangerously close to a nuclear waste dump. Due to a radiation leak, the ants there have mutated into voracious giants and are looking for food.
News & Interviews for Empire of the Ants
Critic Reviews for Empire of the Ants
Audience Reviews for Empire of the Ants
Underrated B horror right here, I mean I expected more from the critics and audience alike. The cheap special greenscreen effects, were hysterical. The best part of the movie. Some of the supporting roles were pretty damn good, like the old couple. The plot is an inside job mission to let giant ants take control of the city. The concluding scene to wrap up the story was cheap and epic. An entertaining treat. One of the movies that's so bad, it's good. A new guilty pleasure of mine.
Daniel Dolgin
Super Reviewer
½
Very poorly made, obvious allusions to Jaws, and a cast of unlikable characters. This is a really silly one that gets on your nerves a lot of the time because of the sound the creatures. There are some parts of it that make you laugh out loud with its awfulness, but that doesn't make this one a must-see, craptastic movie.
Tim Salmons
Super Reviewer
Did we really need another giant ant movie? I don't think so, skip this movie and see Them instead. This one isn't too terrible, but it's not good either.
Empire of the Ants Quotes
There are no approved quotes yet for this movie.