Enter the Ninja
(1981)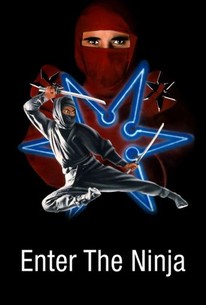 AUDIENCE SCORE
Critic Consensus: No consensus yet.
Movie Info
In this martial arts actioner, a recent graduate from ninja school heads off to save an old friend from the evil machinations of a fearsome villain.
News & Interviews for Enter the Ninja
Critic Reviews for Enter the Ninja
All Critics (4) | Fresh (2) | Rotten (2)
The pacing is lethargic and the action scenes uncomfortably stapled into the movie.
Enter the Ninja is corny, nonsensical fun, and shouldn't be missed by b-movie fans; it's a terrible movie that's far more pleasurable than many "good" ones.
Audience Reviews for Enter the Ninja
Pretty terrible ninja movie! The acting was cheesy, which I didn't mind so much. However, the fights were pretty awful!
James Bond, Jr.
Super Reviewer
This one is not easy to get a hold of ( no dvd release as of right now) , but if you can and appreciate Ninja flicks, I highly recommend it. It may seem a little cheesy to today's younger generation, but in the hype of the 80's Ninja movies - this one has got it all. Great fight scenes and the most Ninja weaponry skills that I've ever seen displayed on film to this day. Sho Kosugi was great as the bad guy, Hasegawa,(along with playing many of the masked bad guys chasing the lead through his final Ninja test in the opening of the film)and actor Franco Nero's (Cole) efforts were pretty convincing as the newly graduated American Ninja (with a lot of help from Martial Arts great and writer Mike Stone behind the white mask). The opening of the film with Kosugi doing fantastic Katas with weapons to the Ninja test was too cool. All scenes were beautifully shot and the chase/battle between rivals Hasegawa and Cole through the test was awesome. The landscape,weapons,and uniforms of the Ninjas in this film had the appearance of authenticity. Along with many neat fights in between, the final battle is still one of my personal favorites, as jealous Hasegawa is hired out (with evil pleasure),by badger tycoon Mr.Venarius, to assassinate his rival. A must see if you can find a copy of the film
David Ladd
Super Reviewer
½
Remember the scene from Pee Wee's Big Adventure where James Brolin stars as P.W. Herman, well that's this entire movie. It's like the director glimpsed into the future, saw Road House, and decided to preemptively take a cinematic dump of his own. This gem of a turd features vastly unappealing actors doing remarkably little ninja-ing. Throw in some smarmy land grabbing baddies, a fat comic relief todie and you've got yourself one of the most underrated terrible movies of the 80's.
Brett Warren
Super Reviewer
Enter the Ninja Quotes
There are no approved quotes yet for this movie.