Escape from the Planet of the Apes
(1971)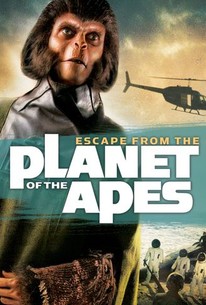 Escape from the Planet of the Apes Photos
Movie Info
Escape From the Planet of the Apes is the third in the series of films based upon the Planet of the Apes characters created by novelist Pierre Boulle. At the end of the second film, the centuries-in-the-future world colonized by simians was destroyed, but apes Cornelius (Roddy McDowall) and Zira (Kim Hunter) were able to escape in the space vessel left behind by 20th century astronaut George Taylor (Charlton Heston). Cornelius and Zira pass through another time warp, finding themselves in the Earth of the 1970s. When they reveal their ability to speak, the apes are first treated as curiosities, then as threats when the government, believing the story that the Earth will eventually be inherited by monkeys, tries to prevent the birth of Zira's baby. They are ultimately given shelter by sympathetic circus owner Armando (Ricardo Montalban). This film was followed by the fourth "Apes" entry, 1972's Conquest of the Planet of the Apes. ~ Hal Erickson, Rovi
Critic Reviews for Escape from the Planet of the Apes
Audience Reviews for Escape from the Planet of the Apes
"Escape From the Planet of the Apes" is the third instalment in the Planet of the Apes saga, and it sure does know how to please fans of the series. After the abrupt and unsatisfying conclusion of the second film, we see that Xera and Cornelious have been sent back in time, giving information to the humans about the inevitable overtaking of the apes. This story is both funny and heartwarming and really makes you feel for these two apes throughout the entire film. It does a wonderful job exploring the differences between humans and apes. The script is well-written, which is funny, because it is helmed by the same writer of the previous instalment, and it is also very well-directed. With a much better story, I really really enjoyed this film.
Third film in the Planet Of The Apes franchise is an entertaining Sci-Fi action film that continues the solid storyline of the Apes films. Director Don Taylor directs a solid cast and he crafts a solid film based on a great script. For fans of the Planet Of The Apes, this third entry has a bit more to offer than the second film, and though the second film was decent, there was definite room for improvement. This film has a much elaborate storyline that is more thrilling than the second film, and I thought it improved on many aspects missing from the second film. This is a better constructed film with a better plot, and it has better acting too. The thing with this series is, is that there are good to decent to mediocre films. This is a good film that is entertaining, thrilling and well plotted to deliver a good cinematic experience for the viewer. I very much loved this third film, and with the cast and great story, you have a terrific third entry in a good series of Sci-Fi films. Sure it's not as great as the first, and it will never come close to being as good as the original, but this film has enough entertainment value to appeal to viewers looking for a good sci-fi adventure. Not a perfect film, Escape from the Planet of the Apes is nonetheless a good follow-up to the first film, and remedies the slightly lacking second film. A good film that is fun to watch. The cast and good story make this film worth watching.
Imagine you've just written a movie which ends with the world getting blown up, and then you get a telegram from the studio asking for a sequel! That was the unenviable position Paul Dehn found himself in in 1970 following the release of 'Beneath The Planet Of The Apes'. His solution? Go back in time and show how Ape World got started! A U.S. spacecraft - missing for two years - crashes off the American coast. Aboard are not human astronauts, but three apes! Zira ( Kim Hunter ), Cornelius ( Roddy McDowall ) and Milo ( Sal Mineo ) managed to recover Taylor's ( Charlton Heston ) old ship, and have followed his path back to 20th century Earth. It is 1973. While Washington tries to work out what is going on, the apes are sent to a zoo. They must remain silent at all times to preserve their uniqueness. But, during an intelligence test, Zira blurts out that she hates bananas. Milo is killed by a gorilla in an adjacent cage, leaving Zira and Cornelius to face this strange new world alone. It is an interesting reversal of the premise of the first film; there we sympathized with Taylor, here we are on the side of the apes. During a Presidential enquiry, Cornelius and Zira charm the observers so much they go on to become media stars. Soon they are staying in a top hotel, shopping in boutiques, invited to give talks, drinking champagne, and attending boxing matches. The world has fallen in love with them. But Dr.Otto Hasslein ( Eric Braeden, giving a wonderful performance ), the man whose theories of time travel Taylor quoted in the first movie, is terrified that the apes have the means to loosen Man's hold on the world. When Zira announces that she is pregnant, his worst fears are confirmed. He gains the authority to interrogate the apes in an effort to find out just what caused Ape World to happen, and prevent it... Another absorbing sci-fi tale by Paul Dehn, matched by smooth direction from Don Taylor ( no relation to Colonel George Taylor ), later to make 'Damien - Omen 2'. What distinguishes it from the earlier movies are its lighter moments; the General welcoming the astronauts back to Earth only to discover they are apes when they remove their helmets gets the film off to a good start. Zira then passes an intelligence test with flying colours, smiling mischievously at Dr.Lewis Stone ( Bradford Dillman ). McDowall was back after a one-film absence ( as was composer Jerry Goldsmith ) and his scenes with Hunter have an unmistakable warmth; when asked by the inquiry if he talks, he replies: "Only when she lets me!". As mentioned earlier, the plot neatly reverses that of the first 'Apes'. Zira and Cornelius find themselves in the same position as 'Taylor', hounded by 'Dr.Zaius' substitute 'Dr.Hasslein'. The Bradford Dillman and Natalie Trundy characters function the same purpose as the chimp couple did in the original. Hasslein is determined to prevent Ape World from happening at all costs, yet by his ruthless actions he inadvertently contributes to its existence. Ricardo Montalban has a small but memorable role as 'Armando', the kindly circus owner who provides a temporary refuge for the apes. This would not be an 'Apes' movie without a tragic ending, and this one is tragic indeed, with both Zira and Cornelius being executed by the state, although baby Milo survives. Dehn had the foresight to leave a loophole for another sequel, which is just as well as there were two. Thanks to its humorous content, 'Escape' is probably the most highly regarded of the four 'Apes' sequels.
David Ladd
Super Reviewer
Escape from the Planet of the Apes Quotes
There are no approved quotes yet for this movie.