Etz Limon (Lemon Tree)
(2009)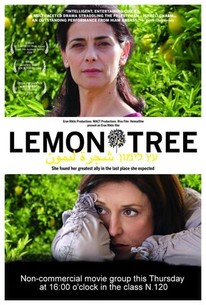 TOMATOMETER
AUDIENCE SCORE
Critic Consensus: A positive and personal Israeli film that offers an understated and thought-provoking vision of the West Bank troubles.
Etz Limon (Lemon Tree) Photos
Movie Info
Widow and empty nester Salma Zidane lives on the Palestinian West Bank, in a little house flanked by lemon trees planted by her great grand parents. Unfortunately, when the Israeli minister of defense builds a house adjacent to her own, her lemon trees are deemed a security risk. Salma hires a lawyer to prevent the powerful man from having her ancestral trees removed, but the odds are stacked against her, and to make matters worse, she begins to fall in love with her lawyer. Things seem bleak, but it looks like hope could shine in from an unexpected source, when the minister's neglected wife develops sympathy for Salma's plight. ~ Cammila Albertson, Rovi
News & Interviews for Etz Limon (Lemon Tree)
Critic Reviews for Etz Limon (Lemon Tree)
Audience Reviews for Etz Limon (Lemon Tree)
Marvellous true story. A story of communication or lack of it across political and religious divides. The neutral viewer can only imagine how this tale would have ended with simple discussion.
John Ballantine
Super Reviewer
½
A most infuriating film, pitting a Palestinian widow against the security forces of the Israeli defense minister whose family has moved in next door. Not only does the widow, Salma Zidane (Hiam Abbass), have to contend with Israeli bureaucracy and the Israeli justice system that is arrayed against her, but she must also defend her honor with her Palestinian neighbors, who do nothing to lift a finger to help her in her struggle. The bone of contention is the lemon grove which lies between the adjacent properties and is judged to be a potential haven for terrorists. That the grove is the legacy which Salma received from her father, has stood for over fifty years and provides her sole source of income, the wheels of justice slowly grind her down. She is aided in her fight by an idealistic young lawyer, Ziad Daud (Ali Suliman). The defense minister's wife, played by Romna Lipaz-Michael, is Salma's silent ally, but she, too, is powerless to offer any real aid. The cast is superb, and the script sparse, but together they clearly convey the frustration and futility experienced by the Palestinian people. The final scene leaves one feeling hollow. A terrific look from another perspective at the human tragedy of the Arab-Israeli conflict.
Mark Abell
Super Reviewer
½
A story of pride and principal. A Palestinian woman's lemons come into harms way when an Israeli politician moves in next door. It's almost like one of those stories where neighbors go mental at the size of each others trees. The only difference being, here there are far more complex and interesting political issues at hand. The film is a moving testament to those that cannot be bought. The parallel story of the wife of the politician, sympathetic to the cause of the Palestinian woman is also a nice companion story that adds to the main narrative. The film does tend to trip over itself when it comes to the politics. It is far too concerned with portraying any character, against the protagonist, in a villainous light. The defense minister comes off as callous and careless while his secret service just seem incompetently paranoid. All this is at the expense of a sweet love story blossoming between the woman and her newly appointed lawyer.
Luke Baldock
Super Reviewer
Etz Limon (Lemon Tree) Quotes
There are no approved quotes yet for this movie.