Evangelion: 2.0 You Can (Not) Advance
(2011)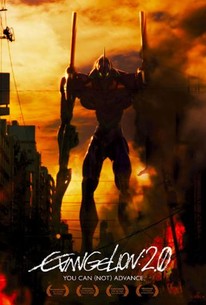 Evangelion: 2.0 You Can (Not) Advance Photos
Movie Info
In the earliest battles against the monstrous Angels, young Eva pilots Shinji and Rei were forced to carry humanity's hopes on their shoulders. Now, with the deadly onslaught of the Angels escalating and the apocalyptic Third Impact looming, Shinji and Rei find their burden shared by two new Eva pilots, the fiery Asuka and the mysterious Mari. Maneuvering their enormous Eva machines into combat, the four young souls fight desperately to save mankind from the heavens - but will they be able to save themselves? -- (C) FUnimiation
Critic Reviews for Evangelion: 2.0 You Can (Not) Advance
Audience Reviews for Evangelion: 2.0 You Can (Not) Advance
½
The second film in the proposed four film theatrical rebuild of the Neon Genesis Evangelion, 2.22 shares the same stunning visuals as the first and offers a more definitive look at the alternate story arc taking shape in these films. Evangelion 2.22 You Can (Not) Advance takes the series from it's more alike story in the first half of the film to one that deviates in many key sequences and involves old plot points with alternate characters in them and totally new events and discoveries being marked entirely. These differences only really resonate in the latter half of the film and while some are major there is enough alike and adhere to the narrative that nothing comes off overly contrived or condensed, instead continuing quite well where the first film left off. Once again seeing this on Blu-ray is stunning, but seeing it in the local Cinema was a revelation and truly awe-inspiring to behold and matches it's visuals with it's well-developed characters and narrative. This film is a dramatic setup for the third film as it ends with Shinji unknowingly bringing about the Third Impact, the end of the world as we know it...
Chris Browning
Super Reviewer
This four-film project had the chance to get right the things that went wrong with the series, namely the technogibberish, the many underdeveloped ideas, the labyrinthine plot and the over-the-top ending; the first two films totally failed on that account. This second film indulges even more to technogibberish and non-sensical narration that wants to pose as sophisticated. The teen-angst characters seem fake and a bad replica of the original. The whole film seems like a cliche based on the tropes that the original series managed to establish. Shots like the elevator scene between Rei and Asuka have become a lot shorter (the original was painfully long but totally appropriate for the moment) and the whole character relations have got a harem-genre turn. Silly fan service is everywhere (for the male audience of course) which ruins the attitude of the film. The animation however is beautiful and the larger production values show, but somehow with less character than the series. The original series was a ground of extreme experimentation with narrative, strange angle shots that mirrored the internal states of the characters and some nice post-modern narration here and there (that was getting out of hand at the last episodes). Approach with caution or go see the series.
George Matalliotakis
Super Reviewer
½
More giant robots battle "angels," and hero Shinji continues whining about how his father doesn't love him, in this second installment of the anime series. Pretty and logic-free, with candy-colored visuals and teenage angst.
Evangelion: 2.0 You Can (Not) Advance Quotes
| | |
| --- | --- |
| Shinji Ikari: | Give me back Rei! |
| | |
| --- | --- |
| Makinami Mari Illustrious: | Point blank, shithead! |
| | |
| --- | --- |
| Shinji Ikari: | "Give...Ayanami...Back" |
| Shinji Ikari: | Give... Ayanami... back. |