Evil Spawn
(1987)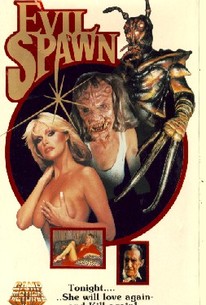 AUDIENCE SCORE
Critic Consensus: No consensus yet.
Movie Info
Evil Spawn, a violent, bloody, but surprisingly effective English horror film directed by Kenneth Hall, deals with a woman's fear of aging and its consequences. When a space probe brings back microbes, scientist Dr. Zeitman (John Carradine) uses them for his experiments in aging but dies before his work is finished. An aging actress, Lynn Roman (Bobbi Bresee), desperate because she is being passed over for roles being given to younger women, injects herself with the drug -- hoping to become young again. The microbes in the serum turn the actress into a bug-like alien killer who quickly deals with her rivals. The film is routine, but the special effects are frightening and the premise is interesting, and while it adds little that is new, is worth a view for horror-film fans.
Rating:
NR
Genre:
, ,
Directed By:
Written By:
In Theaters:
On DVD:
Runtime:
Critic Reviews for Evil Spawn
There are no critic reviews yet for Evil Spawn. Keep checking Rotten Tomatoes for updates!
Audience Reviews for Evil Spawn
Disjointed, incoherent, badly acted, ineptly edited, silly, ridiculous, epic edwoodian failure that's so bad that it manages to amuse for all the wrong reasons. Probably the most fun you'll have watching a train-wreck all week. The film opens with footage of a spaceship and some onscreen verbiage about microbes from space. This has something to do with a scientist making a drug to stop the aging process. That scientist is none other than John Carradine, who appears to have done this film about an hour before he died (in fact, the Carradine footage was shot separately and edited in; Carradine never knew he was in "Evil Spawn"). The scientist's assistant poisons him, steals the serum, gives it to an aging actress, and thus unleashes a monster. A very silly-looking rubber monster with a bug head and which makes cicada noises. The monster, which doesn't appear until about 45 minutes into this 75 minute bomb, then kills a couple of people before the actress' biographer delivers unto us the moral of the flick in just the way that Ed Wood would have done it. None of the cast or crew of this flick had the first bit of talent or, apparently, any clue as to what they were doing. The actors are all horrible, even John Carradine, who is clearly old, sick and about to die. The direction is largely non-existent. The special effects are literally laughable; I know that I laughed out loud several times! Even the lighting and sound are bad, and the cameraman and director didn't know how to block a shot between them. "Evil Spawn" is a rambling, ridiculous mess, and you might just find some guilty pleasure in it!
Brian Seitzman
½
What else can I say about Evil Spawn other than it's definitely a wacky adventure into the world of terribly done yet hilarious low budget Z-grade "horror". Combining scenes and elements that make no sense whatsoever (like the spaceship in the beginning and a "conversation" with top billed John Carradine), the film is basically a poor man's remake to Wasp Woman, where an aging B-movie actress (Bobbie Bresee, who's also been in Mausoleum, Ghoulies, and Surf Nazis Must Die) injects herself with a youth serum (given to her by a villainous woman) that actually turns her into an alien-like bug, thusly, making her murderous. A handful of people die, and then the movie ends in under 70 minutes. The film is filled to the brim with an abundance of terrible acting and titties, bush, and ass. In fact, the highlight of the film is seeing the very naked assistant to Bobbie's character, Elaine (played by Pamela Gilbert, who was also in Demonwarp). Also, to clarify Carradine's role, this scene was shot previously by cult director Fred Olen Ray just for the heck of it to be used in a future film. The scene is painful to watch as it was obvious Carradine was going to keel over any minute (which he did a few months later). This was the directorial debut from none other than Kenneth J. Hall, who is a jack of all trades by having done some writing (Puppetmaster, Nightmare Sisters), special effects (Ghoulies 2, Lurking Fear), and some acting (Gingerdead Man 2). Don't let the appearance of this hilariously awful film deter you away from other Hall projects, as his most recent film, The Halfway House, is a vast improvement over Evil Spawn. I will comment that this film has held up pretty well in terms of look and story. This could have easily been passed off as being made 5 or 6 years ago, instead of over 20. Good for laughs with friends, beer and/or weed.
Jason Duron
Evil Spawn Quotes
There are no approved quotes yet for this movie.