Ex Drummer
(2011)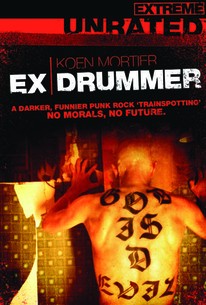 Movie Info
A hapless amateur rock band thinks they've found the key to success only to find their plan has sunk them even deeper into well-deserved obscurity in this confrontational comedy-drama. The Feminists are a going-nowhere punk rock band living in a small Belgian town. The Feminists' gimmick is that all three members are handicapped in some way -- Ivan (Sam Louwyck) is losing his hearing, Koen (Norman Baert) has a speech impediment, and Jan (Gunter Lamoot) permanently injured his arm in an accident. The Feminists, however, are short a drummer, and are searching for a percussionist so they can enter a regional "Battle of the Bands." They approach Dries (Dries Vanhegen), a well known author, and ask him to join the group; his lack of experience as a drummer would serve as his handicap, and his presence would doubtless attract a few customers. Arrogant Dries takes the Feminists up on their invitation as a way of seeing how the other half lives, but as the band hits the road, they constantly shoot opportunity in the foot with their boorish antics and frequent violent outbursts. Ex-Drummer was the first feature film from director Koen Mortier, who previously established himself as a leading director of television commercials. ~ Mark Deming, Rovi
Critic Reviews for Ex Drummer
Audience Reviews for Ex Drummer
I really dug this movie. I'm not going to go over the whole plot as this information can be found elsewhere, I just wanna say that this movie is utterly unique. Features gratuitious drugs, sex and violence, has great style and a kick ass soundtrack and I can gurantee that you haven't seen anything like it. PUNK AS FUCK.
Ed Fucking Harris
Super Reviewer
½
A writer agrees to become the drummer for a band formed by trio of handicapped lowlifes to win a Belgian battle of the bands; he ends up manipulating them into destruction. The movie is explained through Dries? confession when he agrees to join the band as their celebrity drummer: "I want to step outside my happy world. Descend into the depths of stupidity, ugliness, obtuseness, unfaithfulness? Latch onto the life of losers, but without belonging to that world and in the knowledge that I can always return to my own world." In other words, it's socioeconomic tourism among the disadvantaged, GUMMO with Eurotrash subbed in for poor white trash: the underclasses do the craziest things, like constantly rape each other and neglect their children until the tykes chomp down on excrement from hunger. Who wouldn't want to enter such a world for ninety minutes, aside from most film-goers? The soundtrack is the main draw.
½
Now here's a film. Like Gasper Noe directing Trainspotting with characters for Funny Games. Stylish and brutal, this is a consistently entertaining film with great music and excellent performances. A film I'll definitely be revisiting many more times.
Christopher Brown
Super Reviewer
Ex Drummer Quotes
There are no approved quotes yet for this movie.