Falling from Grace
(1992)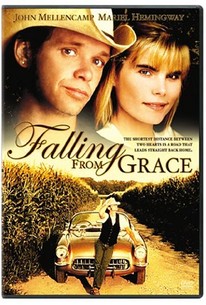 Falling from Grace Photos
Movie Info
Rocker John Mellencamp both directed and starred in this drama about a well-known musician who returns to his old home town, opening a number of old wounds in the process. Bud Parks (Mellencamp) is a country-rock star who's feeling burned out after a long stretch on the road and heads back to his hometown in Indiana for some downtime with his family and old friends for the occasion of his father's birthday. But after arriving in Indiana with his wife, Alice (Mariel Hemingway), and daughter, Terri Jo (Melissa Ann Hackman), Bud gets a reminder that the Parks family is no more happy or stable than it has ever been. Bud's wealthy father, Speck (Claude Akins), is still a self-centered womanizer; Grandpa (Dub Taylor) is a foul and hateful man; and Bud's half-brother, Ramey (Larry Crane) -- the result of one of Speck's many extramarital affairs -- is much better adjusted than his full brother, Parker (Brent Huff), whose loyalty to Speck has turned him into a spiritless lackey. Parker also happens to be married to P.J. (Kay Lenz), who was Bud's girlfriend in high school, and as Alice sits on the sidelines attracting the unwanted attentions of Speck, Bud finds himself falling into an affair with P.J. As he faces his own guilt and the mixed emotions of his family and friends at his return, Bud realizes he's more like his father than he ever wanted to be. Novelist and screenwriter Larry McMurtry wrote Falling From Grace for Mellencamp, even spending time with the singer in Indiana to get a better feel for the locations; songwriter and Mellencamp collaborator John Prine also appears and contributes to the soundtrack.
Critic Reviews for Falling from Grace
Audience Reviews for Falling from Grace
Anthony Valletta
Super Reviewer
Falling from Grace Quotes
There are no approved quotes yet for this movie.