Fastest
(2011)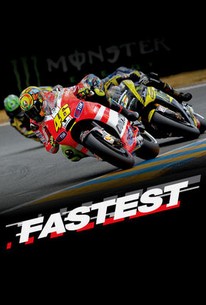 AUDIENCE SCORE
Critic Consensus: No consensus yet.
Movie Info
This documentary follows the dramatic 2010 and 2011 MotoGP world championship which found the acknowledged master of the sport, Valentino Rossi coming up against not only the toughest competition of his career, but having to come back from a bone-breaking crash to reclaim his status as the best of the best. Narrated by Ewan McGreggor.
Critic Reviews for Fastest
Audience Reviews for Fastest
Fastest is the stunning, exhilarating follow-up to Mark Neale's 2003 film Faster. In this film Valentino Rossi goes for his tenth World Championship win in the sport of MotoGP. Brilliantly shot and it takes an in depth look at the season, of Rossi and we see his most challenging season. Neale plunges directly in the action and this is an exciting documentary that will surely appeal to fans of the sport and to motorcycle enthusiasts everywhere. This film goes into the 2010-2011 season and displays a pivotal moment in Rossi's career. This documentary takes a look at the men, the risks, the passion and the machines behind this sport. Faster set the standard, but Fastest goes much more into its subject and will give you what Faster lacked. This is a well crafted documentary and is among the best films in the genre than I have seen. This is action packed with great race footage, interviews and behind the scenes footage. This entry asks the all important question, which is The Fastest? There are some phenomenal riders here, and a few have given Valentino Rossi a run for his money. The film will surely appeal to fans of the sport. I'm not really a follower of the sport, but I've always had an interest in bikes, and I was very much impressed with Fastest. I would recommend this documentary to anyone looking for a great, must real life thrill fest. Mark Neale delivers a stunning picture, one that will deliver more excitement than any Hollywood action film. These men that compete in the MotoGP are insane, and determined to win and Fastest definitely uncovers that passion to win and asks the all important question, who is the Fastest?
Fastest Quotes
There are no approved quotes yet for this movie.