Fastpitch
(2000)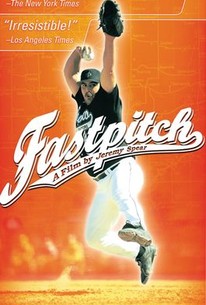 AUDIENCE SCORE
Critic Consensus: At age 35, former Yale Art major and NY based conceptual artist, Jeremy Spear, "craving the thrill of competition," joins the New Jersey Gators, one of America's major fastpitch softball teams. Chasing an old athletic dream, his journey into the little known sport of fastpitch softball brings him deeper than he first thought it would, into the heart of small-town America.
Later he is recruited by the Ashland Abbott Labs of Ohio. On a journey that brings him from the rural midwest to the Northern Ojibway territory, he meets with fans and players who have witnessed the decline of this sport that once rivaled the popularity of baseball.
He encounters a very eclectic mix of people. There are memorable figures, such as New Zealand outfielder, Shane Hunuhunu, who, despite hearing his name being massacred by native Ashlanders, finds among them a level of warmth and open-heartedness that breaks the stereotype one might have about rural America. Spear meets the financially-creative coach of the Ashland Abbott Labs, Nick McCurry, who has learned to stretch the fastpitch dollar a little more every year. He encounters Florida tycoon, Peter Porcelli, whose financial superiority has created controversy and rivalry among the other teams and who is obsessed with winning the World Fastpitch Championship, at any cost. The filmmaker finds himself face to face with the unrivaled Native American legend from the Toronto Gators, Darren Zack, who has found in fastpitch the fulfillment of a long-lasting dream to represent his people at a national level in the United States.
Spear records the daily survival of an amateur sport which lack of popularity has drawn sponsors away from, condemning it to a level of precariousness only inversely proportionate to the passion it still revives in players and supporters alike.
Some may find in it, just a pastime, some, a vehicle to carry out their fight against alcohol and drug addiction in their community, for others it remains the purest form of competitive sport.
The film details vanishing Americana, the line between hobby and obsession, and a pride in identity that transcends racial or regional affiliation.
Whatever the motivation, the involvement goes so deep that it is impossible not to share the passion for fastpitch. -- © Artistic License Films
Movie Info
Jeremy Spear is a noted sculptor and conceptual artist who has developed an estimable reputation on New York's downtown art scene. Spear is also an avid sports enthusiast who played shortstop on Yale's baseball team as they made the NCAA finals in the early 1980s. In the late 1990s, a friend asked Spear if he was interested in playing fast-pitch softball on a semi-pro team in Ohio, and soon he was introduced to what he calls "America's last barnstorming sport," which is far removed from both the casual amateur play of slow-pitch softball and the big money and glamour of major league baseball. Fastpitch is a documentary Spear made during his season with the Abbott Labs team, based in Ashland, OH (most American fast-pitch teams are sponsored by businesses), and takes a look at the colorful characters (would-be pro baseballers, Maori immigrants from New Zealand, Native American activists, and eccentric Southern millionaires) who populate a sport where, in an age of multimillion-dollar big league contracts, no one makes much money and the legends of the sport are all but unknown. Fastpitch was named Best Feature Documentary at the 2000 Nashville Independent Film Festival.
Critic Reviews for Fastpitch
Audience Reviews
There are no featured reviews for Fastpitch at this time.
Fastpitch Quotes
There are no approved quotes yet for this movie.