Fifty Shades Darker
(2017)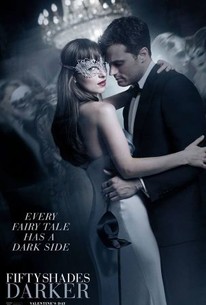 TOMATOMETER
AUDIENCE SCORE
Critic Consensus: Lacking enough chemistry, heat, or narrative friction to satisfy, the limp Fifty Shades Darker wants to be kinky but only serves as its own form of punishment.
Fifty Shades Darker Videos
Fifty Shades Darker Photos
Movie Info
Anastasia has broken off her relationship with the troubled Christian to pursue a new career in a Seattle publishing house.
News & Interviews for Fifty Shades Darker
Critic Reviews for Fifty Shades Darker
Audience Reviews for Fifty Shades Darker
Monotonous trash, Fifty Shades Darker is even worse than the first film. Christian and Ana give their relationship another try (contract free this time), but things get complicated when a mysterious woman begins stalking Anna and an attempt is made on her life. The writing is terrible, with no suspense or intrigue to the murder mystery plot. And the acting is awful, as the leads continue to have a complete lack of chemistry. The pacing and editing are also incredibly poor; taking all the passion out of the love scenes and the tense out of the stalker/murder plot. Additionally, the soundtrack is intrusive and draws attention to itself rather than creating a mood and fading into the background. Fifty Shades Darker is an inept erotic thriller that is neither erotic nor thrilling.
Dann Michalski
Super Reviewer
Throughout the years, cinema has had its high points and its low points. On average, there is a general 50% percent between the good and the bad, but Fifty Shades Darker is on a new level. Let's be clear and say that there really wasn't anything good about the first film. It was a horrible script with a bad plot that wasn't very exciting, but somehow Fifty Shades Darker makes the original bearable. I felt like I was in a trance during my viewing of this picture, wondering why I even chose to watch it. Slowly becoming fascinated with how atrociously bad nearly every single second was, I just had to finish it. If anything is worse than this film this year I will genuinely be shocked. Here is why this film should be seen by every filmmaker as a lesson on how to not make a film. A film can take its time revealing what its premise is truly about in order to savour the flavour of its twists, but when a story never reveals itself, it makes its audience feel robbed. Following the conclusion that had Anastasia Steele leaving Christian Grey at the end of the first film, you'd expect that the sequel would be about one of them trying to win the other back, but that happens within the first five minutes of the film. For the next two hours, you will find yourself watching a series of dates, sex scenes, stalkers following them, and stupid injections into the so-called story that made the film laughable to say the very least. The plot of this film is that they date, develop some sort of relationship and eventually fall in love. That's it, seriously. With no inciting incidents and reluctance to have anything bearing happen, I found myself amazed that this film was even made. Most critics hate on Johnson and Dornan for having zero chemistry with one another, but that was not an issue I had with the first film, in fact they elevated the lame premise for me. That being said, even I can see that neither one of them are giving it their all here. It felt like they were forcing kinky aspects into the film when necessary, solely for the purpose of stimulating the audience. For that reason alone I felt betrayed as an audience member. Making half a billion dollars at the box office the first time around, Fifty Shades Darker barely cracked half of that. It just goes to show that quality does trump all every now and then. I've never read these novels, but it felt like the sequences that had the character of Leila stalking Christian was forced into the story to pad out the run time, making it seem like it had a bigger purpose than what was on the surface. From this stupid element to an element that has Christian facing someone from his past, to being able to overcome certain memories, everything about the small side plots throughout this film felt laughable to me. Look, I was one of the people that defended the original train wreck of a film for not being quite as horrible as people suggested it was, but there is absolutely nothing redeemable about this sequel. In the end, there isn't a single audience I can recommend this to. Sure, it's aimed at older women, but I can even see them chuckling throughout a lot of this film. Their chemistry, along with the overall "plot" of this film was a step down from what was already a lacklustre film. From the horrendous dialogue to the laughter-inducing sex sequences with blaring pop music, Fifty Shades Darker feels like a parody of this genre, unintentionally. I honestly don't know how we live in a time where three of these films are being made, but this film is so terrible that I'm actually curious to see if it can get any worse than this. If you haven't seen either of these films, especially this one, you're doing yourself a very solid favour.
James Foley's Fifty Shades Darker may be a little darker, but still a bland grey sums it up. For nearly 2 hours, the film delivers stuff, then sex, more stuff, then more sex, etc. The story is slow and tiresome, leaving very little to show other than the aforementioned sex scenes. The highlight is obviously the erotic segments, which gives this film its R-rating. There are a good share of them, but nothing that pushes to an NC-17 rating, which is where this picture may begin to shine, just a little. Dakota Johnson and Jamie Dornan are definitely easy on the eyes, but their performances don't help this picture in anyway. The characters may be written this way, and if so, it doesn't work on screen as it would in a book. Fifty Shades Darker does have a kinkiness to it; just not enough to strip down and stand out.
Fifty Shades Darker Quotes
There are no approved quotes yet for this movie.