A Fistful of Dollars (Per un Pugno di Dollari)
(1964)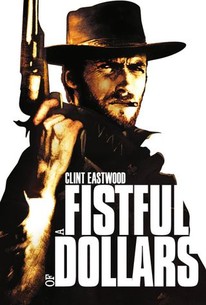 TOMATOMETER
AUDIENCE SCORE
Critic Consensus: With Akira Kurosawa's Yojimbo as his template, Sergio Leone's A Fistful of Dollars helped define a new era for the Western and usher in its most iconic star, Clint Eastwood.
A Fistful of Dollars (Per un Pugno di Dollari) Photos
Movie Info
By the time Sergio Leone made this film, Italians had already produced about 20 films ironically labelled "spaghetti westerns." Leone approached the genre with great love and humor. Although the plot was admittedly borrowed from Akira Kurosawa's Yojimbo (1961), Leone managed to create a work of his own that would serve as a model for many films to come. Clint Eastwood plays a cynical gunfighter who comes to a small border town and offers his services to two rivaling gangs. Neither gang is aware of his double play, and each thinks it is using him, but the stranger will outwit them both. The picture was the first installment in a cycle commonly known as the "Dollars" trilogy. Later, United Artists, who distributed it in the U.S., coined another term for it: the "Man With No Name" trilogy. While not as impressive as its follow-ups For a Few Dollars More (1965) and The Good, the Bad, and the Ugly (1966), A Fistful of Dollars contains all of Leone's eventual trademarks: taciturn characters, precise framing, extreme close-ups, and the haunting music of Ennio Morricone. Not released in the U.S. until 1967 due to copyright problems, the film was decisive in both Clint Eastwood's career and the recognition of the Italian western. ~ Yuri German, Rovi
Critic Reviews for A Fistful of Dollars (Per un Pugno di Dollari)
Audience Reviews for A Fistful of Dollars (Per un Pugno di Dollari)
A very cool western well made and directed. Eastwood manages on infiltrate a gang so he can get to their leader. Plenty of shoot-outs.
Leone's classic that laid the ground for a new era for Westerns, and even though it is not as fantastic and visually stunning as what he would make after, you can already find here the seeds of his unique directing style and the introduction of Eastwood's sullen anti-hero, The Man With No Name.
Carlos Magalhães
Super Reviewer
The Man With No Name: When a man's got money in his pocket he begins to appreciate peace. A FIstful of Dollars is Sergio Leone's first in his Spaghetti Western trilogy, centering around a drifter with no name. This isn't my favorite of the trilogy, but it is a great film in its own right. This is the movie that made Clint Eastwood into a star and also the first great film from Leone. So its importance goes without saying. The plot is that of Kurosawa's Yojimbo, substitute gunfighters for samurai's. This film is beautifully shot, with extreme close ups and well framed shots. Sergio Leone took the spaghetti western and made it a relevant genre, while also breathing new life into a dying genre; the American Western. Certainly a film that needs a viewing. You don't have to love westerns to enjoy any of the films in Leone's trilogy. You only have to be able to enjoy great filmmaking and that's what A Fistful of Dollars is.
Melvin White
Super Reviewer
A Fistful of Dollars (Per un Pugno di Dollari) Quotes
| | |
| --- | --- |
| The Man with No Name: | You see, I understand you men were just playin' around, but the mule, he just doesn't get it. Course, if you were to all apologize... |
| | |
| --- | --- |
| The Man with No Name: | Baxter's over there, Rojo's there, me right smack in the middle. |
| | |
| --- | --- |
| The Man with No Name: | When a man's got money in his pocket he begins to appreciate peace. |
| | |
| --- | --- |
| The Man with No Name: | Get three coffins ready. |