Flags of Our Fathers
(2006)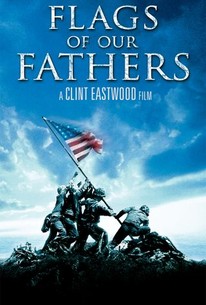 TOMATOMETER
AUDIENCE SCORE
Critic Consensus: Flags of Our Fathers is both a fascinating look at heroism, both earned and manufactured, and a well-filmed salute to the men who fought at the battle of Iwo Jima.
Flags of Our Fathers Photos
Movie Info
Clint Eastwood's adaptation of the non-fiction book Flags of Our Fathers concerns the lives of the men in the famous picture of soldiers raising the American flag over Iwo Jima during that historic WWII battle. Battle scenes are intercut with footage of three of the soldiers - played by Ryan Phillipe, Jesse Bradford, and Adam Beach -- who survived the battle going on a goodwill tour of the United States in order to sell war bonds. Many evening they are forced to reenact their famous pose, something each of them finds more and more difficult to do as they suffer from survivor's guilt. Eastwood frames the story by having one of the men's grown son (Tom McCarthy) interview his father's old comrades in order to find out more about what happened to his father. Eastwood followed this film with Letters from Iwo Jima, a second film about the battle of Iwo Jima, but told from the Japanese perspective. Flags of Our Fathers was produced by Eastwood and Steven Spielberg. ~ Perry Seibert, Rovi
People Who Like this movie also like
News & Interviews for Flags of Our Fathers
Critic Reviews for Flags of Our Fathers
Audience Reviews for Flags of Our Fathers
The men who raised the flag over Mount Suribachi become part of the War Department's propaganda machine and are labeled heroes, much to their chagrin. I have mixed feelings about this film. On the one hand, the concentration on using these soldiers' fame for the war effort is a unique and insightful way of telling this story. And Clint Eastwood's direction is superb, able to film battle sequences with a realism similar to Saving Private Ryan and to linger on disturbing images just long enough. On the other hand, the film attempts to problematize the concept of heroism in war. The film's thesis is that the American public thought these men were symbols of American excellence - a reason to be proud of their country - but the men were too tortured by what they saw and did to find the label fitting. They claim that the true heroes were those who didn't survive and that they were just doing their jobs, fighting not for the country but for the man next to them. What bothers me is that this definition of heroism isn't new, and where the film seeks to problematize heroism, it inevitably retraces ground already covered by other films. Even For Whom the Bell Tolls offers a similar thesis. What is even more to the point is that Eastwood includes several scenes of intense battle sequences that display these men in the roles of traditional heroes. Thus, I think, the film ends up reproducing the stereotypes it attempts to complicate. Overall, I think there are many good elements to Flags of Our Fathers, and I learned something about WWII, but I don't think the film accomplishes all it set out to do.
Jim Hunter
Super Reviewer
½
A true masterpiece this was. Flags of Our Fathers was nothing more than terrific. There were moments when we smiled, teared up, and were in shock. The war scenes were detailed and realistic. And the story was a true work of genius, I loved it. True, the movie was confusing at times but in the need it pulls through. A truly genius film.
Jim Careter
Super Reviewer
½
Flags Of Our Fathers is based on the non fiction by the same name by James Bradley. James Bradley's father was one of the men who raised the flag on Mount Suribachi. Clint Eastwood adaptation is a flawed but good attempt. One of the biggest problems I had with the film was that there wasn't that many scenes on Iwo Jima. The film is about the six men who raised the flag, and we do get to see that in the film of course, but after that we get see them on a war bonds tour to raise funds for the war effort. I preferred the book personally, but Eastwood does do a good adaptations of the book. But with every adaptation, the book will always be better than film. But this is flawed and I think the second half, Letters From Iwo Jima was far superior to this film. As far as the cast is concerned they do a good job at portraying the real life men. Also I was stunned at a few casting choices, Paul Walker and Jesse Bradford for example. I think they're pretty boys who usually can't act, but I was pleasantly surprised with them in the film. Flags Of Our Fathers, takes a look at the propaganda campaign that followed the famous photograph take by Joe Rosenthal on February 23,1945. We see the impact the picture has back in America, and the US Army decide to take the six men on a war bonds tour to raise funds. With Flags Of Our Fathers we get two sides of the story, the battle itself and the raising of the flag and we get the propaganda side. Clint Eastwood has done a fairly good job at adapting this story and showing the cost of manufactured propaganda. This a good film to watch, and I did enjoy it, but the book offers a more in depth at the battle, the flag raising and the war bonds tour. Flags Of Our Fathers is a well told film and brilliant acted and directed. However there lacks something to make this film better than it is. Luckily if people felt let down by this film, the sequel, Letters From Iwo Jima definitely doesn't disappoint. I view this film as Clint Eastwood trying to find the right way in telling the story of the Battle of Iwo Jima and with Letters he manages to accomplish it. With Flags he was halfway there, and he was able to tell an important and unforgettable story. A flawed but very good film.
Flags of Our Fathers Quotes
| | |
| --- | --- |
| Ira Hayes: | I can't take them calling me a hero. All I did was try not to get shot. |
| | |
| --- | --- |
| Dave Severance: | Looking at it you could believe the sacrifice was not a waste. |
| | |
| --- | --- |
| Dave Severance: | Most guys I knew won't even talk about what happened over there, probably because they're still trying to forget it. They certainly didn't think of themselves as heroes. |
| | |
| --- | --- |
| Ira Hayes: | We shouldn't be here, Doc. |
Discussion Forum
Discuss Flags of Our Fathers on our Movie forum!