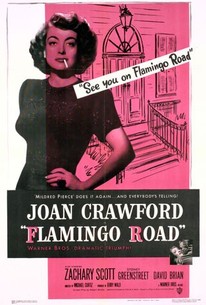 Flamingo Road
1949, Drama, 1h 34m
5 Reviews
250+ Ratings
Where to watch
Rent/buy
Rent/buy
Rent/buy
Rate And Review
Movie Info
Dancer Lane Bellamy (Joan Crawford) tours with a carnival, but is deserted in Boldon City when they flee to avoid their debts. Deputy Fielding Carlisle (Zachary Scott) arrives and, secretly smitten with her, helps Lane find employment as a waitress. However, scheming Sheriff Titus Semple's (Sydney Greenstreet) ambitious plans for Fielding to become a rep in the state legislature do not include his dating an itinerant woman, so he runs her out of town. Lane seeks revenge, but at what cost?
Audience Reviews for Flamingo Road
"flamingo road" is joan crawford's another cooperation with director michael curtiz who catapults crawford into the niche of academy award-winning actrress in 1945 for "mildred pierce". and this time crawford teams again with curtiz as well as her mildred pierce co-star zachary scott (midlred's giglo beau monte barragon) to veer her tough dame persona into the field of political drama endorsed by the villainous participation of "maltese falcon"'s sydney greenstreet. at this turn, crawford becomes the astray carnival dancer lane bellamy who aspires to lead a more dignified lifestyle in cozy little town in the south where flamingo road simbolizes the prestige of power and wealth. then lane encounters a sheriff named field who likes to wear buffulo bill hat(zachary scott) when her carnival tent retreats to another town that plants the bud of their romantic chemistry. unfortunately field's top boss titus(greenstreet) wants to take field as his number-one puppet to run for the congress so field's affair with lane has to be terminated at the cost of putting lane away in jail. not intimidated by titus' evil overpower, lane bites her lips tight for survival in lute mae's roadhouse where she bumps into another politcal tycoon dan reynolds who marries her later. thus lane reels into the league of flamingo road to defy titus' merciless dominion, striving on her own to prevent her husband from being framed by this obsese sinister crook whose avarice has no boundary. director curtiz has his little episode to disuade joan crawford from her excessive shoulder paddings, so crawford has milo anderson for her wardrobe in "mildred pierce" and travilla for her clothes here in "flamingo road" instead of her long-term designer adrian who she has adapted since her mgm days in the 30s. and the attempt here to sensualize crawford is blatant with the close-shots of her best asset, the lenghty fair legs of hers to introduce her entrance that is handy to reflect field's covet over lane. curtiz even arranges an insolent juicy jazz tone "if i could be with you one hour tonight" accompanied along by crawford's own husky singing voice to contribute a perfect vehicle for the crawfordian saga. zachary scott made his career highlight in "mildred pierce" as crawford's incestous kept-man with full gears of suave elegance. deprived of male glamour, scott is just another typecasting for spineless romanticist who loves but not courageous enough to fight for the dame. scott gets disposed after the movie runs two out of the thirds, and his character even dies in the same way as mildred pierce with his face downward instead of the upward position. as for sydney greenstreet, he's always good without backfire when he's in the shoes of banality and corruption since his success of "the maltese falcon" if you're ernest admirer of "mildred pierce", you might like "flamingo road" which is composed of all the right ingredients rehashed in the same winsome formula for box-office attraction, but at least it's well-fabricated with talented director, a capable cast, and of course, a charismatic star, joan crawford.

I am a very fan of Joan Crawford's. Flamingo Road from the late 40's was yet another gem. Joan plays a woman that ges stranded at a circus while trying out for a pageant. This was a stepping stone from being part of the circus to making money and power within this small southern town. A battle then ensues with the major politician in town whom wants to destroy anything she touches and is a part of.

Lurid, over the top melodrama with Crawford giving a tough, spirited performance against wonderful opponent Sydney Greenstreet, theirs is a terrificly malevolent chemistry. They pretty much wipe everybody else off the screen except for Gladys George in a sharp cameo.
See Details