Flicka 2
(2010)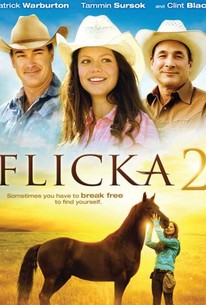 AUDIENCE SCORE
Critic Consensus: No consensus yet.
Movie Info
Convinced that her life is over when she's sent to live on a Wyoming horse ranch with her gruff father (Patrick Warburton), urban-bred teen Carrie (Tammin Sursok) finds a kindred spirit in the form of a wild mustang named Flicka who becomes her constant companion. The more Carrie nurtures Flicka, the more she realizes she hasn't been fair to her father, and begins opening up to him. Meanwhile, as Carrie strikes up a romance with a kindly young cowboy, Flicka's life is threatened by a bitter rival. Clint Black co-stars.
Critic Reviews for Flicka 2
All Critics (3) | Fresh (2) | Rotten (1)
The world didn't need a Flicka 2, but as useless sequels of questionable artistic merit go, it's not deplorable. Pre-teen girls will adore it, and that's all that really matters.
It may be on the farm, but "Flicka 2" is a breath of fresh air. Great values, good acting and very capable direction. This is a fine family film. Paul Chambers, CNN.
Audience Reviews for Flicka 2
½
It wasn't the best...really cliche- of course there's going to be a happy ending. This movie wasn't realistic at all. If I was Carrie, I would've been more depressed if I found out my horse was going to be given away to someone else. And if I found out my horse was going to be sold to slaughter, I would've flipped a shit. Screaming, crying, severe depression, possibly suicide contemplation..... Carrie's performance was not convincing. Yeah she showed tears, but come on now, your horse is getting sold to slaughter. She was able to get over her horse so fast. Like when she released Flicka into the wild, she cried for a minute then was like "Okay, let's eat omelettes!" Like really? You freak, what's wrong with you? Aside from Carrie, Flicka looked like she had TOO much of a bond with Carrie. That is totally unrealistic. I've never met a horse that liked a person better than other horses. Like Flicka flipped out when Carrie left- what horse on this planet cares that much about their owner? I have a pretty nice bond with my horse, but there's no way in hell she would ever jump a 4ft fence and follow me home. Flicka's actions were so far fetched. Her attachment to Carrie was disturbing, not heart warming. That horse needs counseling because it has major separation anxiety....not an "unbreakable bond" with Carrie. Plus since it was a mustang, you would think Flicka would actually enjoy a horse's company more than a human's. It didn't make any sense at the end either, Flicka (who just HAD to be with Carrie 24/7), had absolutely no hesitation when running out into the wild. I thought the horse wouldn't want to leave, but obviously their bond was not as strong as they thought. In conclusion- this movie sucks. Unrealistic garbage about a mentally unstable mustang.
Flicka 2 Quotes
There are no approved quotes yet for this movie.