Floating Weeds (Ukigusa)
(1959)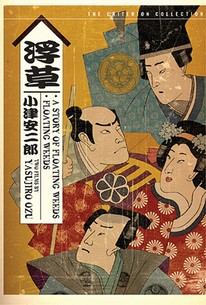 Floating Weeds (Ukigusa) Photos
Movie Info
This 1959 Ozu production centers on the likable but fallible leader of an itinerant acting troupe ("floating weeds" being the Japanese name for such groups), Kimajuro, played brilliantly by Ganjiro Nakamura. The film opens on a lazy, stagnant river as the troupe lays spread about on a boat deck drifting downstream. It's obvious that they're a ragged bunch as they sit fanning themselves and smoking on deck. The boat pulls into a quiet fishing village where the troupe proceeds to canvass the town, hanging up posters and performing impromptu stunts for the inhabitants. Kimajuro and his actress mistress, Sumiko (Machiko Kyo), head to the theatre and secure their cramped quarters above the theatre's main hall. Kimajuro leaves to pay a visit to a local saki bar owned by Oyoshi (Haruko Sugimura), who, years previous, had conceived a child with Kimajuro. The child has grown into a strapping young man, Kiyoshi (Hiroshi Kawaguchi), who has a good job at the post office. Kimajuro, although clearly proud of his son, has refused to take responsibility for the child and Kiyoshi thinks Kimajuro is merely his uncle. Unbeknownst to Kimajuro, Sumiko has discovered his secret, and, infuriated, hires a young actress to seduce Kiyoshi. Terrified that his son is falling for this woman of loose morals, Kimajuro has to decide what's most important: keeping his secret safe or saving his son by acknowledging his paternity. ~ Brian Whitener, Rovi
Critic Reviews for Floating Weeds (Ukigusa)
Audience Reviews for Floating Weeds (Ukigusa)
Well this is my introduction to Ozu and it's a highly overrated one. I mean to long indulged film offered me nothing. One beautiful camera shot in the rain and all of a sudden this has some of the best cinematography ever. A predictable and overly laid out story. Awful, and I mean dreadful acting. I don't see anything classic about this. I will credit the color usage, but other than that this is really not special.
Daniel Dolgin
Super Reviewer
a rare remake of a film directed by the same auter of the original, ozu retells his silent 1934 classic with the use of sound, dialogue, and color cinematography. suprisingly the only reason this film is even slightly better than the original is ozu's ability to flesh out the story more with 30 extra minutes and talking actors, but the original silent is so amazing that both films should be seen as top notch films. this version is more light hearted than the original but still dark in its own ways, and the telling of this father/son story is beautiful and effective. a truly wonderful film.
Maybe I just don't like Japanese films, but this is overrated to the hilt. The story is average and the cinematography isn't as cathartic as most would delude themselves into thinking. It was long and boring but it wasn't just that I disliked - it was Ozu's assuming of self-importance that from the start turned me off the film.
Jennifer Xu
Super Reviewer
Floating Weeds (Ukigusa) Quotes
There are no approved quotes yet for this movie.