Flowers of Shanghai (Hai shang hua)
(1998)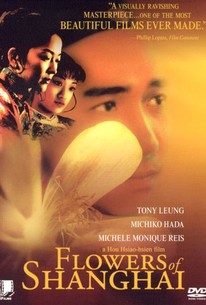 Movie Info
Shanghai, the 1880s, four elegant brothels (flower houses): each has an auntie (the madam), a courtesan in her prime, older servants, and maturing girls in training. The men gather around tables of food, playing drinking games. An opium pipe is at hand. The women live within dark-paneled walls. The atmosphere is stifling, as if Chekov was in China. The melancholy Wang is Crimson's patron; will he leave her for the younger Jasmin? Emerald schemes to buy her freedom, aided by Luo, a patron. Pearl, an aging flower, schools the willful Jade, who thinks she has a marriage agreement with young master Zhu. Is she dreaming? Women fade, or connive, or despair.
Critic Reviews for Flowers of Shanghai (Hai shang hua)
Audience Reviews for Flowers of Shanghai (Hai shang hua)
A gorgeous-looking film with a beautiful art direction and a camera that appears to glide through the sumptuous spaces and rooms of those four brothels in 38 stunning long takes, making it feel almost like a travel in time to the atmospheric Shanghai of the end of the 19th century.
Carlos Magalhães
Super Reviewer
Multiple viewings in a theater setting MIGHT get this more stars. ... could also induce suicide.
Bob Stinson
Super Reviewer
moving very slowly from one blackout scene to the next, beautifully shot in the candlelit rooms of various brothels of the 19th century, flowers of shanghai explores the intrigues of 'flower girls' or courtesans, sold as children into a life little better than slavery. there's alot of drinking, gambling and opium smoking and the film requires a good deal of patience. i probably need to watch it again as i felt as though i had smoked opium myself afterward
Stella Dallas
Super Reviewer
Flowers of Shanghai (Hai shang hua) Quotes
There are no approved quotes yet for this movie.