Flukt (Escape)
(2012)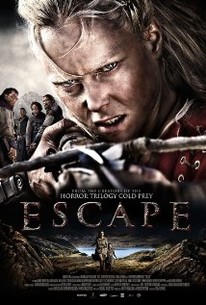 AUDIENCE SCORE
Critic Consensus: No consensus yet.
Movie Info
A 19-year-old girl abducted by the ruthless bandits who slaughtered her family must fight to escape a fate worse than death in this period action thriller from the director of Cold Prey. A decade after the Black Plague, Signe is traveling over a mountain pass with her family when everyone except for her is killed in a surprise ambush. In the aftermath of the bloodbath, Signe is taken captive by the gang so that she may suffer the most severe punishment imaginable. Now Signe's time is running out fast, and her only hope for survival is make one last, desperate dash for freedom. ~ Jason Buchanan, Rovi
Critic Reviews for Flukt (Escape)
There are no critic reviews yet for Flukt (Escape). Keep checking Rotten Tomatoes for updates!
Audience Reviews for Flukt (Escape)
This might end up being one of the shortest reviews I've done. This is a pretty good film all things considered. It's an easy film to watch as it only barely hits the 74 minute mark. Because of that, you can rightfully guess, that character development is really, mostly, ignored. You get a flashback on Dagmar and seeing how she ended up into the ruthless bandit she is today, it's really the only story-heavy scene in the entire movie. It does make Dagmar a more sympathetic villain. This movie is all about the action, not in the conventional sense like in a Transformers movie or something like that, more like the cat-and-mouse game. I found the entire thing to be a little too one-dimensional. The acting is solid and everything, but it doesn't change the fact that the film isn't exactly setting the world on fire when it comes to complexity. It has the same tone throughout and it doesn't ever move away from it. I suppose that's admirable, it's quick, to the point and it doesn't waste any time in throwing you into this dark, depressing world where bandits rule the day. But I wish there would've been a little diversity in the story. It takes itself too seriously at times, maybe a slight comedic touch, to relieve the tension. It just needed something that would've given it an extra push. But, again, you have to appreciate its no-nonsense attitude and approach to its story and editing. The cinematography is excellent, captures the feel of this unforgiving world perfectly. In spite of its faults though, this is still a perfectly solid action movie. There's not an original bone in this move, however. So if you want something different, or unique, you're barking up the wrong tree. It will give you 74 good minutes, but don't expect to remember this movie a week from now.
Jesse Ortega
Super Reviewer
It's been ten years since the Black Plague ravaged the lands. A poor family sets out on a journey to find a better place to live. On a desolate mountain pass, the family is attacked by a pack of merciless killers. The only one to be spared is 19-year-old Signe, who is taken hostage and brought back to camp. There she learns she is to face a fate far worse than death, and she realizes the only thing to do is to run away. But her escape does not go unnoticed, and now the chase is on. It's been 7 long years since director Roar Uthaug, who directed one of my all time favorite slasher film Cold Prey, made a genre follow up to that badass slasher. The wait has been worth it, as his new effort Escape is another atmospheric hit, though it may not be has scary or straight up horror, it is just as thrilling. The movie starts on a startling note as a poor family travels through post-Black Plague lands to find a better and safer place to live. Those innocent moments are soon shattered as the family is ambushed by ruthless killers who savagely kill the parents and their son, only to spare the life of their 19-year-old daughter Signe, which they have sinister plans for and keep her as a prisoner and tie her to a tree. Signe is soon befriended by their other prisoner Frigg, who is a younger girl that one of the captors who's named Dagmar, played by Cold Prey's Ingrid Bolso Berdal, treats as her own daughter for which she can't bare children because of tragic and horrific past. That past destroyed Dagmar's soul, which leads her on this sinister past of filling that dark hole, towards the end I felt sorry for this character even though I should be disgusted with her. Signe and Frigg come up with a master plan to escape and one morning when everyone is sleeping Frigg cuts Signe free only to awaken the captors and the two races and fight back for their lives and salvation. Even though the film from that point tends to be pretty predictable, the film still manages to spin out suspenseful and tense moments of dread throughout and takes great advantage of the raw, wooded landscape. The film also shows great restraint when it comes to the violence shown and has a simple yet smart direction, making Escape a refreshing escape from big budgeted, overly bloody, excessive action genre efforts Hollywood brought us this year so far. The performances from the three lead gals were great and layered. Ingrid Bolso Berdal who played a badass heroine Jannicke in the slasher Cold Prey, delivers again in a different turn as the villain this time Dagmar and is just as badass yet more tragic here because of her motive. Ingrid Bolso Berdal is one of the sexiest and best actresses working today as she disappears into her role everytime and I can't wait to see what character she plays next, she is becoming one of my favorites. The performances from the other two girls were pretty solid too especially that this is their first starring role. Isabel Christine Andreasen who plays the lead victim Signe, shows great restraint as a young actress and doest overact at all, and when it comes to fighting back against her captors and getting revenge and becoming the heroine, she holds her own and has raw talent, I see great things for her. Milla Olin, who plays the youngest victim Frigg, is a really good child actress and also holds her own in the picture and wasn't the slightest annoying and made some smart and brave moves. Milla also shows potential and great maturity as the next child star, we'll just have to see. The supporting actors were all pretty great too, just not a stand out. Director, Roar Uthaug is becoming one of my favorite directors and I just wish I don't have to wait as long for his next genre offering, because he is an expert when it comes to movies like Escape and Cold Prey, he is excellent when it comes to mood, atmosphere and suspense, so I hope this isn't the last we see from him because we need a director like him in this genre. Roar Uthaug has two underrated and mostly overlooked hits on his hands and he seems to be getting better and better at his craft. The same goes for writer, Thomas Moldestad who also collaborated with Roar on Cold Prey and also wrote Cold Prey 2, they're a great team and should and hopefully will do more and more horror movies and thrillers in the future, he's great at story build up and back story and show with those films, even though there might be plot holes here and there but they didn't bother me. Overall, Escape is a simple yet epic looking, well crafted, well-directed and written, with solid performances and haunting locations. While it might not be the most original thriller out there, Escape sure is a satisfying experience and one of my favorite films this year so far. Recommended! 7.5 out of 10
Matt Slash
Super Reviewer
Flukt (Escape) Quotes
There are no approved quotes yet for this movie.